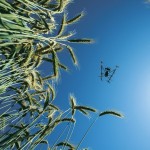 $20 million in grants for research to boost wheat yield potential

The International Wheat Yield Partnership (IWYP) will recommend around US $20 million in grants awards from its funders for a selection of 8 research projects by leading institutes to increase wheat's photosynthetic and energy-use efficiency and harness the genetics behind key components of yield.
Resulting from a January 2015 call for competitive research proposals, the projects fit the IWYP goal of raising the genetic yield potential of wheat by up to 50% in the coming 20 years.
To read more about the projects, IWYP, and the Initiative's funders, click here.
Tags: breeding, CGIAR Research Program on Wheat, CIMMYT, competitive grants, genetics, IWYP, photosynthesis, Wheat, yield, yield potential
Trackback from your site.