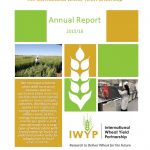 Advances toward breaking the wheat yield barrier: IWYP 2015-16 annual report

In addition to incisive background on IWYP, including its model, mission and goals, this report covers first-year activities and advances from th
e partnership's Science Program and how research outputs are uses to generate added value.
Dr. Richard Flavell FRS, CBE, who chairs the Science Impact and Executive Board of IWYP, states: "Being a part of such a worthy endeavor as IWYP that seeks to impact global food and nutritional security by seeking solutions with cutting-edge science is exhilarating. This is a unique opportunity to employ and validate a new way of working together internationally to achieve common goals that address critical needs. We are confident that we have laid the necessary groundwork and will remain focused and committed to realize our collective success."
To view or download a copy of the IWYP Annual Report follow the link: http://iwyp.org/annual-report/
Tags: CGIAR Research Program on Wheat, Wheat
Trackback from your site.