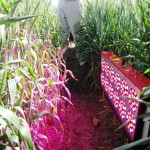 By Mike Listman/CIMMYT
CIUDAD OBREGON, Mexico (March 22, 2016)- In early outcomes, partners in the International Wheat Yield Partnership (IWYP) are finding evidence that increased photosynthesis, through high biomass, improvements in photosynthetic efficiency, and improved plant architecture, can help make wheat more productive, as the Partnership progresses toward meeting its aim of raising the crop's genetic yield potential by up to 50% over the next 20 years.
This and other work, and particularly partners' roles and operating arrangements, were considered at the first official annual IWYP Program Conference. This was held at the Norman E. Borlaug Experiment Station near Ciudad Obregón, Mexico, 8-10 March 2016, following the funding and commencement of the Partnership's first eight projects, according to Jeff Gwyn, IWYP Program Director.
"The aim of the conference was for participants to learn about everyone else's work and to integrate efforts to realize synergies and added value," said Gwyn, noting that some 35 specialists from nearly 20 public and private organizations of the Americas, Europe, Oceania, and South Asia took part.