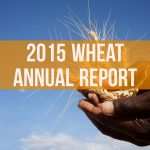 By Katie Lutz/CIMMYT
EL BATAN, Mexico (August 24,2016)- High returns to global wheat research Building on more than a half-century of proven impacts, the global wheat improvement system led by CGIAR centers continues to be the chief source for wheat farmers in Africa, Asia and Latin America of critical traits such as high yields, disease resistance and enhanced nutrition and quality.
A recently-published study found that CGIAR-derived varieties – nearly all traceable to CIMMYT and ICARDA breeding programs – cover more than 100 million of 220 million hectares worldwide and bring economic benefits of as much as $3.1 billion each year. To achieve impacts in wheat agri-food systems, CIMMYT and ICARDA depend on national partnerships in over 100 countries and critical support from CGIAR Fund Donors and other contributors, whom we sincerely thank on behalf of the world's wheat farmers and consumers.