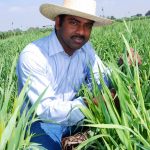 By Katie Lutz/CIMMYT
MEXICO CITY, Mexico (February 2, 2017) — Reductions of spike-ethylene, a plant-aging hormone, could increase wheat yields by 10 to 15 percent in warm locations, according to a recent study published in New Phytologist journal.
Ethylene is usually produced by plants at different developmental stages and can cause a wide range of negative effects on plant growth and development.
When hot weather hits a wheat field an increase in ethylene levels can lessen the amount of grains produced on ears or spikes by limiting the export of carbohydrates to pollen development.