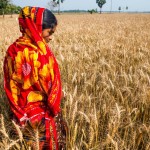 By Katie Lutz/CIMMYT 
EL BATAN, Mexico (January 22, 2016)- Global temperatures are projected to increase 2 to 4 degrees C by the end of the century, according to the Intergovernmental Panel on Climate Change.
"Rising temperatures reduce global wheat production," a recent study published in the leading science journal, Nature Climate Change, discusses the work of 50 scientists from 15 countries stating that this increase in temperature will be a huge threat to wheat yields. Through use of 30 crop models and data from field experiments, these scientists found that rising temperatures are already reducing global wheat production.
Their main finding was that, for every 1 degree C increase in growing season mean temperatures, wheat production decreases by six percent — equivalent to a worldwide loss of 42 million tons of grain.