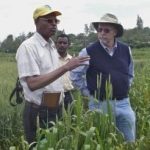 Cornell receives UK support to aid scientists fighting threats to global wheat supply

ITHACA, NY: Cornell University will receive $10.5 million in UK aid investment from the British people to help an international consortium of plant breeders, pathologists and surveillance experts overcome diseases hindering global food security efforts.
The funds for the four-year Delivering Genetic Gain in Wheat, or DGGW, project will build on a $24 million grant from the Bill & Melinda Gates Foundation, announced in March 2016, and bring the total to $34.5 million.
"Wheat provides 20 percent of the calories and protein consumed by people globally, but borders in Africa, South Asia and the Middle East are porous when it comes to disease pathogens and environmental stressors like heat and drought that threaten the world's wheat supply," said Ronnie Coffman, international plant breeder and director of International Programs at Cornell University, who leads the global consortium.
Tags: CGIAR Research Program on Wheat, CIMMYT, climate change, DGGW, food security, productivity, Wheat
Trackback from your site.