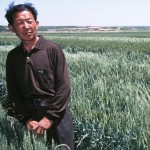 Global Partnership Propels Wheat Productivity in China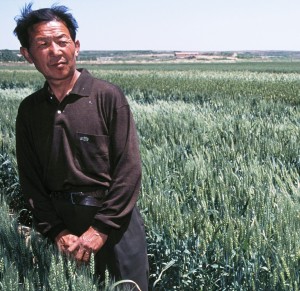 Mike Listman
Benefits of three decades of international collaboration in wheat research have added as much as 10.7 million tons of grain — worth US $3.4 billion — to China's national wheat output, according to a study by the Center for Chinese Agricultural Policy (CCAP) of the Chinese Academy of Science.
Described in a report published on 30 March 2015 by the CGIAR Research Program on Wheat, the research specifically examined China's partnership with the International Maize and Wheat Improvement Center (CIMMYT) and the free use of CIMMYT improved wheat lines and other genetic resources during 1982-2011. The conclusions are based on a comprehensive dataset that included planted area, pedigree, and agronomic traits by variety for 17 major wheat-growing provinces in China.
"Chinese wheat breeders first acquired disease resistant, semi-dwarf wheat varieties from CIMMYT in the late 1960s and incorporated desirable traits from that germplasm into their own varieties," said Dr. Jikun Huang, Director of CCAP and first author of the new study. "As of the 1990s, it would be difficult to find anything other than improved semi-dwarf varieties in China. Due to this and to investments in irrigation, agricultural research and extension, farmers' wheat yields nearly doubled during 1980-95, rising from an average 1.9 to 3.5 tons per hectare."
The new study also documents increasing use of CIMMYT germplasm by wheat breeders in China. "CIMMYT contributions are present in more than 26% of all major wheat varieties in China after 2000," said Huang. "But our research clearly shows that, far from representing a bottleneck in diversity, genetic resources from CIMMYT's global wheat program have significantly enhanced China varieties' performance for critical traits like yield potential, grain processing quality, disease resistance, and early maturity."
WILL CHINA WHEAT FARMING RISE TO RESOURCE AND CLIMATE CHALLENGES?
The world's number-one wheat producer, China harvests more than 120 million tons of wheat grain yearly, mainly for use in products like noodles and steamed bread. China is more or less self-sufficient in wheat production, but wheat farmers face serious challenges. For example, wheat area has decreased by more than one-fifth in the past three decades, due to competing land use.
"This trend is expected to continue," said Huang, "and climate change and the increasing scarcity of water will further challenge wheat production. Farmers urgently need varieties and cropping systems that offer resilience under drought, more effective use of water and fertilizer, and resistance to evolving crop diseases. Global research partnerships like that with CIMMYT will be vital to achieve this."
Dr. Qiaosheng Zhuang, Research Professor of Chinese Academy of Agricultural Science (CAAS) and a Fellow of Chinese Academy of Science, called the new report "…an excellent, detailed analysis and very useful for scientists and policy makers. CIMMYT germplasm and training have made a momentous contribution to Chinese wheat."
FOR MORE INFORMATION OR TO REQUEST AN INTERVIEW 
Dr. Jikun Huang
Director
Center for Chinese Agricultural Policy (CCAP)
Email: jkhuang.ccap@igsnrr.ac.cn
Tel: 86-10-64889440 or 64888601
Dr. Zhonghu He
Distinguished Scientist and Wheat Breeder
International Maize and Wheat Improvement Center (CIMMYT)
Email: zhhecaas@163.com
Mike Listman
Communications officer, CGIAR Research Program on Wheat
Email: m.listman@cgiar.org
Tel: +52 (55) 5804 7537
Mobile: +52 1595 1089 677
Skype: mikeltexcoco
Tags: agriculture, breeding, Center for Chinese Agricultural Policy, CGIAR Research Program on Wheat, China, CIMMYT, climate change, farming systems, productivity, Wheat, wheat impacts
Trackback from your site.