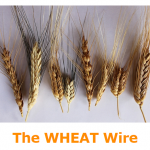 Read and Subscribe to The WHEAT Wire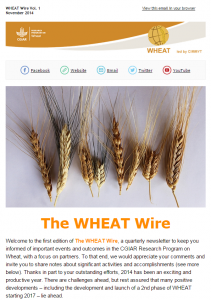 The first edition of The WHEAT Wire is now out. The WHEAT Wire is a quarterly newsletter designed to keep you informed about important events and outcomes in the CGIAR Research Program on WHEAT, with a special focus on our partners. This edition of The WHEAT Wire features stories on Sanjaya Rajaram and The World Food Prize, the WHEAT Extension Period Proposal, new projects being carried out by WHEAT in 2015 and the outcomes of the WHEAT Partner Priority Survey.
For future WHEAT Wire's we encourage and appreciate your comments and invite you to share notes and photographs about significant activities and accomplishments. Please read and subscribe to The WHEAT Wire today!
Trackback from your site.