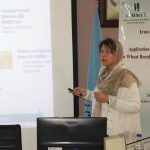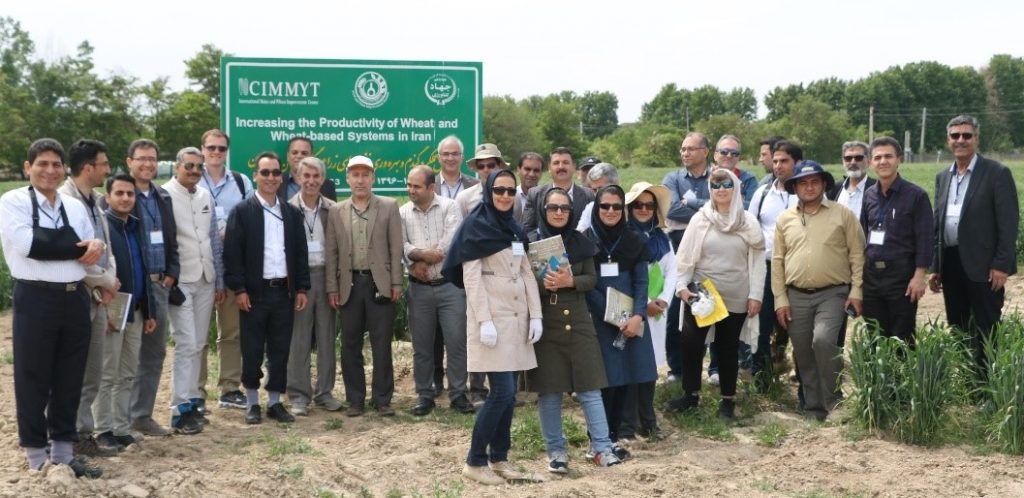 As part of the implementation of the 2017-18 work plan of the Iran-CIMMYT project "Increasing the Productivity of Wheat and Wheat Systems in Iran", a workshop on "Application of Physiology (Phenotyping) in Wheat Breeding and Management" was held from 29 April-01 May 2018 at the Imam Khomeini Higher Education Center, Karaj, Iran. It was attended by 30 participants (four of whom were women) including wheat breeders, agronomists and physiologists from the Seed and Plant Improvement Institute (SPII), the Dryland Agriculture Research Institute (DARI), the Agricultural and Natural Resources Research and Education Centers and the Jahad-e-Agriculture Organizations. They learned about the theory and application (field practice and measurements) of physiological concepts and knowledge in wheat breeding and research programs, as well as wheat management. Field training and practices were conducted at SPII's Cereal Research Field Station in Karaj.
Dr. Marta Da Silva Lopes and Dr. Alistair Pask, senior wheat physiologists at the International Maize and Wheat Improvement Center (CIMMYT), were the workshop instructors. The participants received books, articles, manuals, software and other educational materials pertaining to the theme of the workshop. To assess the quality and usefulness of the workshop, evaluation forms were distributed among participants and their feedback and comments were compiled and synthesized.
Ninety six percent of the participants found the workshop of high quality and useful. For example, one of the participants wrote, "Thank you so much for conducting such a wonderful and informative workshop. I have been waiting for this course for long time. It was very fruitful to me and I learned a lot from this event. I also found the answers for many of my questions about wheat physiology and phenology. This course will definitely help me to improve my work." Another participant said "…this workshop helped me to better understand wheat physiological aspects in more detail. The tools were very useful and I hope to use them in my wheat breeding program."
The aim of the workshop was to improve and upgrade the knowledge and skills of Iranian wheat breeders and agronomists on the application of physiology/precise phenotyping in wheat breeding and crop management across Iran. It was organized by the Iran-CIMMYT project, and benefited from the technical backstopping of CRP WHEAT and CIMMYT Project W3B-PR-18-Turkey.