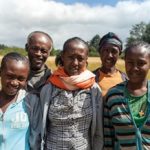 2016 ICARDA annual report–Enhancing resilience, helping dryland communities to thrive

The hottest on record, 2016 also marked another year that ICARDA has been on the frontlines of agricultural sustainability and innovation. The 2016 annual report highlights the organization's efforts to provide farmers throughout the drylands with the latest tools, resources, and training to ensure that their livelihoods — and food security — are resilient to the increasing onslaught of climate change.
Click here to view or download a copy of the full report.
Tags: CGIAR Research Program on Wheat, climate change, farming systems, food security, Front page, ICARDA, livelihoods, productivity
Trackback from your site.