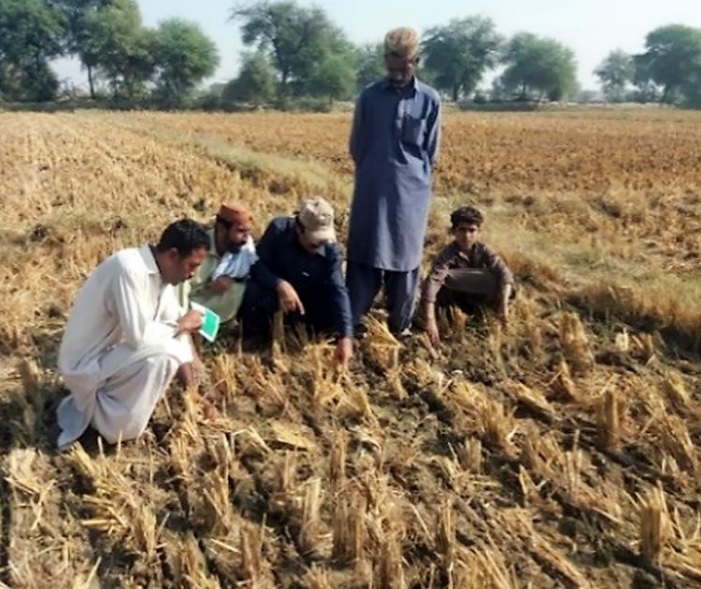 By Kashif Syed, September 24
More than 70 agricultural professionals met in Islamabad, Pakistan, during September 4-5 to discuss agronomy and wheat activities under the Agricultural Innovation Program (AIP) for Pakistan. The event provided a platform for institutions involved in agronomy and the dissemination of agricultural technology and seed to share advances, discuss issues, and plan future undertakings.
"Crop productivity must be increased through research on innovative crop management techniques, varietal development and dissemination of better techniques and seed to farming communities," said Dr. Yusuf Zafar, Chairman of PARC, addressing participants and touching upon a key theme of the event. He emphasized that precision agriculture, decision support systems, the use of drones, water productivity improvements and more widespread mechanization were on the horizon for Pakistani farmers, but that this would require active involvement of the public and private sectors.
Developments in zero tillage farming and ridge planting were highlighted in the two-day conference as conservation agriculture practices that are gaining traction in national wheat farming, according to Imtiaz Muhammad, CIMMYT representative and AIP project leader.
"In collaboration with a national network of 23 public and private partners, CIMMYT has reached more than 25,000 farmers through trainings on zero tillage, ridge planting, and direct seeded rice farming," Imtiaz said, adding that support to farmers included nutrient management education the provision of seed planters. "These techniques are helping farmers to save water, avoid residue burning, and reduce their production costs."
Collaboration with agricultural machinery manufacturers and other private sector actors is leading to local production of Zero Till Happy Seeders, which sow directly into unplowed fields and the residues of previous crops, according to Imtiaz. "Innovative approaches have also resulted in the production of 1,500 tons of wheat seed in 2018," he explained.
Wheat seed production and farmers' replacement of older varieties have progressed through local seed banks established by AIP in partnership with Pakistan's National Rural Support Program (NRSP). Located in villages, the banks sell quality wheat seed for up to 12 percent less than local markets. "This is critical, because Pakistan's wheat seed replacement is only 30 percent," said Imtiaz, adding that there is a 50 percent gap between potential wheat yields and the national average yield for this crop.
The AIP will open more seed banks in remote areas of Pakistan, in conjunction with national partners. As well as producing and processing seed, the banks will provide farm machinery contract services and precision agriculture tools at subsidized rates.
Participants' recommendations included adding straw spreaders to combine harvesters for rice, to facilitate the direct sowing of wheat after rice. They also suggested that agricultural service providers should help promote the direct seeding of rice and wheat with zero tillage implements. Participants observed that, in Baluchistan Province, support to farmers and service providers could increase the adoption of zero tillage for sowing wheat after rice and of precision land leveling, to improve irrigation efficiency and save water.
The AIP and partners will continue to promote water saving and nutrient management techniques, as well as building the capacity of farmers, national staff and agricultural service providers. Finally, those attending recommended that, for its second phase, AIP focus on the biofortification of wheat and rice, climate smart agriculture, decision support tools, women in farming, knowledge delivery, appropriate mechanization, nutrient management, weed management and water productivity.
AIP is the result of the combined efforts of the Pakistan Agriculture Research Council (PARC), the International Livestock Research Institute (ILRI), the International Center for Agricultural Research in the Dry Areas (ICARDA), the International Rice Research Institute (IRRI), the World Vegetable Center (AVRDC), the University of California at Davis, and the International Maize and Wheat Improvement Center (CIMMYT). It is funded by the United States Agency for International Development (USAID). With these national and international partners on board, AIP continues to improve Pakistan's agricultural productivity and economy.