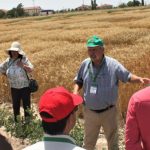 Traveling seminar tours Turkey wheat fields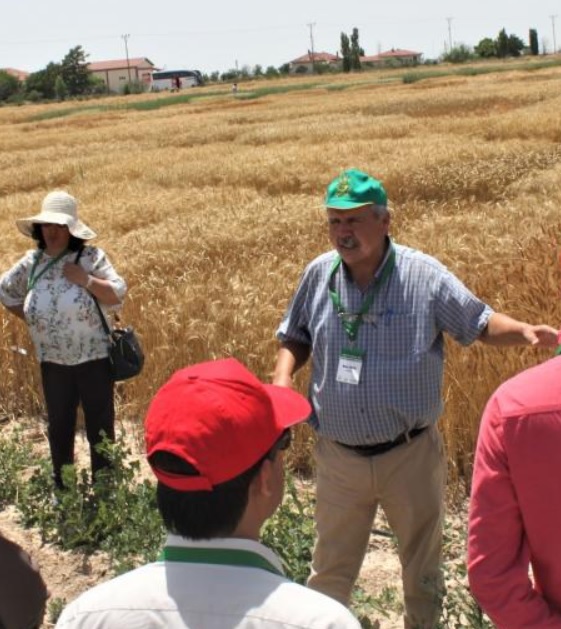 Turkey – In June, about 50 crop scientists gathered in the wheat fields of Turkey. The group, representing no fewer than 11 countries, offered global technical expertise on and insights into wheat as a crop in drylands. Their goal: learn more about improved winter wheat varieties.
Organized by the International Winter Wheat Improvement Program, or IWWIP, the event – traveling seminar and phenotyping exercise – was a scientific roadshow. The delegation of scientists came from far and near, with 27 from Turkey, and the rest from Azerbaijan, China, Iran, Pakistan, Russia, Turkmenistan, South Korea, Spain, and the United Kingdom.
"This is a unique opportunity to share experiences from East to West and discover the latest findings in genotypes," says Keser Mesut, ICARDA's senior scientist and country manager based out of Ankara, Turkey. "Having the opportunity to share wheat improvement activities is extremely important. It helps us understand that our needs are shaped by similar challenges posed by climate change."
IWWIP is a joint program between the Turkish Ministry of Food, Agriculture, and Livestock, the International Maize and Wheat Improvement Center, widely known as CIMMYT, and ICARDA.
Established in the mid-1980s by Turkey and CIMMYT to breed winter wheat, the IWWIP alliance has expanded over the years with ICARDA joining in 1991. The aim is to develop winter and facultative wheat germplasm for North Africa, Central, and West Asia, and facilitate their exchange.
Click here to read more…
Tags: agriculture, Asia, breeding, CGIAR Research Program on Wheat, CIMMYT, climate change, food security, Front page, Home page, ICARDA, IWWIP, productivity, Turkey, Wheat, winter wheat
Trackback from your site.