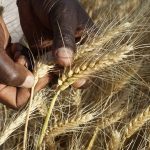 Activating the gene power in seeds to boost wheat's climate resilience

As part of varied approaches at the International Maize and Wheat Improvement Center (CIMMYT) to unleash the power of wheat biodiversity, researchers from India and Mexico have been mobilizing native diversity from ancestral versions of wheat and related grasses to heighten the crop's resilience to dryness and heat—conditions that have held back wheat yields for several decades and will worsen as earth's climate changes. Now their results are beginning to reach breeders worldwide.
In the wheat component of the CIMMYT-led Seeds of Discovery (SeeD) project, by 2016 the scientists had cross-pollinated elite wheat lines with more than 1,000 heirloom wheat varieties and "synthetic wheats" — the result of interbreeding wheat with hardy wild grasses.
The team has since refined the experimental wheat lines from this work and shared them with scientists in Australia, India, Iran, Mexico, Pakistan, and the United Kingdom.
South Asia: A laboratory for heat effects on wheat. The results are particularly relevant for India, whose farmers produce some 90 million tons of wheat each year and where overall warming and the increasingly variable onset of pre-monsoon heat threatens wheat crops.
Recognizing the value of the enhanced wheat genetic resources to address this and other challenges, the government of Punjab state, one of India's leading wheat producers, is supporting SeeD's wheat research at the Borlaug Institute for South Asia (BISA) Ludhiana, Punjab, experiment station, according to Kevin Pixley, director of CIMMYT's genetic resources program.
"To break through wheat's current yield-gain ceiling of less than 1 percent per year, wheat plants must be able produce much more while withstanding hot, dry weather and crop diseases," said Pixley, speaking at a SeeD workshop at Punjab Agricultural University (PAU), Ludhiana, in March. "To develop such wheats, breeders need access to useful characteristics from unbred materials and wild relatives through pre-breeding, a process to develop bridging lines that carry the useful traits and can be used easily by breeders to cross those qualities into the best modern wheat varieties."
Organized by BISA, the workshop provided a forum for scientists from the public national breeding programs of South Asia to share their data and feedback, after testing wheat pre-breeding lines developed at CIMMYT under heat and drought stress.
Breeders are testing and using experimental wheat lines. "Systematic, large-scale deployment of useful wheat diversity from gene banks is extremely important to address increasing demand and climate change threats and generally broaden the genetic diversity of the wheat varieties that farmers grow," said Sukhwinder Singh, who leads SeeD's wheat research component. "We really appreciate the help of national partners to evaluate early-generation pre-breeding lines in their respective regions."
The event drew 15 breeders and 20 PAU students and administrators, including the opening speakers Sarvejit Singh, PAU Director of Research, and D.S. Brar, PAU adjunct professor.
Among other things, workshop participants assessed the value of the wheat lines for their respective institutes' research programs.
Achla Sharma and the team from PAU, Ludhiana, are tapping into pre-Green Revolution germplasm to broaden the genetic base of their breeding program. They showed two years of data that identified SeeD pre-breeding lines promising for tolerance to drought, salinity and soil micronutrient deficiency, as well as stripe and leaf rust resistance.
Sandeep Kumar, of India's National Bureau of Plant Genetic Resources (NBPGR), has screened thousands of NBPGR accessions for heat tolerance and has been collaborating with CIMMYT wheat physiologist Matthew Reynolds for the past three years. He would like to compare NBPGR phenotypes and genotypes with materials from SeeD and the CIMMYT genebank.
Sanjay Kumar Singh, of the Indian Institute of Wheat and Barley Research (IIWBR) in Karnal, reported that about one-third of the 164 SeeD pre-breeding lines they have evaluated are promising for rust resistance, and several look useful for heat and drought tolerance.
Jai Jaiswal, of G.B. Pant University of Agriculture and Technology, Pantnagar, indicated that the maturity of SeeD pre-breeding lines is useful because it is similar or a few days earlier than the maturity of their checks. They are screening for heat tolerance and rust resistance, and appreciate the genotypic information available through CIMMYT/SeeD.
Ashwani Kumar and Daisy Basandrai from CSK Himachal Pradesh Agricultural University made a presentation on the potential of SeeD pre-breeding lines and landrace core sets evaluated at Malan station-Palampur. Based on artificially inoculated field and screenhouse trials, they have identified about 20 lines and 20 Iranian landraces with exciting levels of powdery mildew resistance.
Harminder Sidhu (BISA, CIMMYT) discussed how conservation agriculture contributes to climate change adaptation by saving water, nutrients and money, and maintaining cooler canopy temperature; it also reduces weeds and enables relay cropping. A discussion ensued on seeking germplasm for use in conservation agriculture with the objective of reducing weed competition.
Uttam Kumar (CIMMYT, BISA) spoke about genomic selection. Project partners expressed their interest in applying genomic selection to SeeD pre-breeding materials, for example, to predict performance in some environments using data from other environments.
Participants expressed great interest and their intent to continue field testing of wheat pre-breeding germplasm that appears promising for heat and drought tolerance and other traits, as well as to take part in analyses combining multi-location field data with genotypic data from SeeD.
Conserving, studying and using wheat genetic diversity. Located at CIMMYT headquarters in Central Mexico, the center's wheat germplasm bank contains nearly 150,000 collections of seed of wheat and related species from more than 100 countries. These collections preserve the diversity of unique native varieties and wild relatives of wheat and are held under long-term storage for the benefit of humanity in accordance with the 2007 International Treaty on Plant Genetic Resources for Food and Agriculture, according to Pixley.
"CIMMYT researchers also apply targeted physiology and DNA technologies to broaden and leverage the native diversity of wheat for the challenges farmers face," said Pixley. "Finally, the center leads an unparalleled international wheat improvement network whose contributions are found in the pedigrees of varieties sown on half of the world's wheat area. As part of breeding nurseries and responses to requests for germplasm bank samples, in 2016 alone CIMMYT distributed more than 14 tons of experimental wheat seed in 306 shipments to 284 partners in 83 countries."
The work of SeeD is supported by generous funding from Mexico's Agriculture, Livestock, Rural Development, Fisheries, and Food Secretariat (SAGARPA), the government of Punjab, and the UK's Biotechnology and Biological Sciences Research Council (BBSRC).
Tags: agriculture, Asia, breeding, CGIAR Research Program on Wheat, CIMMYT, climate change, food security, India, South Asia, Wheat