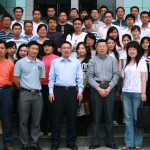 Assessing the impact of CIMMYT on capacity development in China

By Katie Lutz/CIMMYT
EL BATAN, Mexico (May 12, 2016) – A study recently published by the Center for Chinese Agricultural Policy of the Chinese Academy of Science showed that the International Maize and Wheat Improvement Center (CIMMYT) has provided an increasing number of training opportunities for Chinese scholars in the past four decades. 350 Chinese researchers had taken part in CIMMYT wheat training programs since 1970, of which 15 percent were female during 1980-1990; rising to 35 percent female during 2000-12. Since the 1990s, there was an increasing focus on young scientists.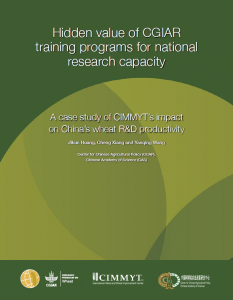 The study is the first attempt at assessing the impact of CIMMYT's training programs on Chinese scholars. The significant hidden value of CIMMYT's training programs for Chinese trainees' academic performance revealed by this study should have important implications for major international donors who are interested in improving NARS research capacity. The study stated that the trainees performed better after training. On average, trainees' annual total numbers of publications, patents, awards and wheat varieties were higher in the post-training period. In addition, the trainees' ability to obtain research projects and funding was higher than the average level of all scientists at their institutions.
According to the study, "the majority of trainees highly appreciated the effect CIMMYT training had on their careers. Most of them claimed that the training helped them obtain new scientific knowledge and technology, improve their research and work experiences, access more germplasm resources and develop a better research network. Moreover, most of the respondents also believe that the training programs have largely contributed to wheat technological changes in China. They suggest that CIMMYT can play a more important role by expanding its training programs and conducting more collaborative work in China in the future."
The training impacts report is the second of two studies by CCAP-CAS on the achievements of the China-CIMMYT wheat research partnership. The first study showed that 10.7 million tons of grain — worth US $3.4 billion — were added to China's wheat output, as well as genetic diversity that significantly enhanced key traits in China's wheat varieties, through three decades of shared research.
To view or download a pdf of the report on training impacts, click here.