By Katie Lutz/CIMMYT
EL BATAN, Mexico (August 24,2016)- High returns to global wheat research Building on more than a half-century of proven impacts, the global wheat improvement system led by CGIAR centers continues to be the chief source for wheat farmers in Africa, Asia and Latin America of critical traits such as high yields, disease resistance and enhanced nutrition and quality.
A recently-published study found that CGIAR-derived varieties – nearly all traceable to CIMMYT and ICARDA breeding programs – cover more than 100 million of 220 million hectares worldwide and bring economic benefits of as much as $3.1 billion each year. To achieve impacts in wheat agri-food systems, CIMMYT and ICARDA depend on national partnerships in over 100 countries and critical support from CGIAR Fund Donors and other contributors, whom we sincerely thank on behalf of the world's wheat farmers and consumers.
A critical juncture
Consumers in particular are benefiting from current low wheat grain prices, thanks in part to the success of WHEAT, but many studies foreshadow a future of rising demand and food price instability that could wreak havoc, particularly among poor consumers.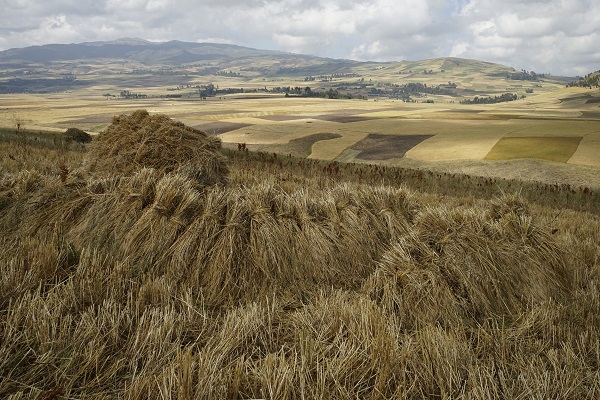 The unfolding scenario implies a yearly growth in wheat demand of 1.4 percent to 2030, at constant prices. But yield gains in wheat remain below 1 percent per year over the last decade, mainly because the easiest gains in wheat have already been achieved and more dramatic progress will require new approaches.
To ensure the affordable availability of wheat – a food staple that provides around 20 percent of protein and calories consumed worldwide – researchers need to expand field testing for disease resistance and heat and drought tolerance and to significantly raise wheat's genetic yield potential.
For their part, during 2015 CIMMYT and ICARDA made excellent progress in merging their wheat programs to ensure partners and farmers' quick and effective access to high-yielding, climate-resilient breeding lines, productive and resource-conserving cropping practices and knowledge needed to face the future of wheat, the vital grain of civilization and food security.
Hans-Joachim Braun
Director, CGIAR Research Program on Wheat