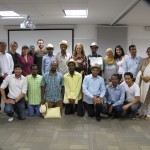 Call for Applications for Basic Wheat Improvement Course

By Katie Lutz/CIMMYT
EL BATAN, Mexico (November 25, 2015) – Applications for the Basic Wheat Improvement Course (BWIC) are due 15 December.
The BWIC is a three-month intensive program at the Campo Experimental Norman E. Borlaug (CENEB) in Ciudad Obregon, Sonora, that targets young and mid-career scientists, focusing on applied breeding techniques in the field.
The training program has benefited national research programs since its inception. The increasing number of wheat scientists in major wheat producing countries reflects the great need and interest of national programs in training young scientists. One of the most frequent requests from countries and national programs is for more trained scientists.
Since 1968, over 1000 scientists from 106 countries have participated in training courses in Mexico. The training program has helped form positive bonds between CIMMYT and the trainees' countries of origin. Course alumni have gone on to lead national programs, receive advanced degrees and contribute nationally and internationally to wheat improvement.
The course will run from February 20- May 25, 2016 and will focus on practical aspects of breeding, pathology, physiology and wheat quality. Trainees will participate in lectures, workshops, seminars and field work covered by CIMMYT scientists and guest lecturers.
Testimony from a 2015 Trainee:
"This program was important for me to start my professional career. It was vital for me to learn from an international program, so that I could adapt this new information for our national program. Coming to CIMMYT was a dream; it's one of the most famous international centers with an incredible staff that we all learned so much from.
I would recommend this course for the young and old to come and learn the basic methodology for selection and to share with other people their experiences and culture." – Rifka Hammami, Tunisia
Read more about The 2016 BWIC and  apply for the course here.