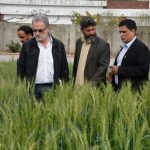 By Mike Listman/CIMMYT
ISLAMABAD, Pakistan (June 30, 2017) – Farmers in Pakistan are eagerly adopting a nutrient-enhanced wheat variety offering improved food security, higher incomes, health benefits and a delicious taste.
Known as Zincol and released to farmers in 2016, the variety yields harvests as high as other widely grown wheat varieties, but its grain contains 20 percent more zinc, a critical micronutrient missing in the diets of many poor people in South Asia.
Due to these benefits and its delicious taste, Zincol was one of the top choices among farmers testing 12 new wheat varieties in 2016.
"I would eat twice as many chappatis of Zincol as of other wheat varieties," said Munib Khan, a farmer in Gujar Khan, Rawalpindi District, Punjab Province, Pakistan, referring to its delicious flavor.
Khan has been growing Zincol since its release. In 2017, he planted a large portion of his wheat fields with the seed, as did members of the Gujar Khan Seed Producer Group to which he belongs.
The group is one of 21 seed producer associations established to grow quality seed of new wheat varieties with assistance from the country's National Rural Support Program (NRSP) in remote areas of Pakistan. The support program is a key partner in the Pakistan Agricultural Innovation Program (AIP), led by the International Maize and Wheat Improvement Center (CIMMYT) and funded by the U.S. Agency for International Development.
"Over the 2016 and 2017 cropping seasons, 400 tons of seed of Zincol has been shared with farmers, seed companies and promotional partners," said Imtiaz Muhammad, CIMMYT country representative in Pakistan and a wheat improvement specialist.