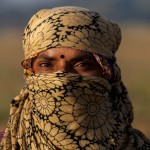 By Katie Lutz/CIMMYT
EL BATAN, Mexico (October 15, 2014)- Each year, 16 October is recognized worldwide as the International Day of Rural Women. The United Nations (UN) states that the role and contribution of rural women is crucial in enhancing agriculture and rural development, improving food security and eradicating rural poverty.
According to the World Bank's 2012 World Development Report, women comprise 43 percent of the agricultural workforce worldwide. Gender affects wheat production in many low- and middle-income countries, where women in villages lack legal rights or face social or cultural exclusion from access to land, information, credit or new technologies.
"Research has shown that women spend more of their resources on children than do men," said Lone Badstue, strategic leader for gender research and mainstreaming in CIMMYT's socioeconomic program. "Improving women's access to resources can directly benefit children's wellbeing and development. In fact, a 2011 report from FAO states that providing women farmers with equitable access to resources and thus bringing their yields up to the levels achieved by men could remove as many as 150 million people from the ranks of the undernourished."
Gender and social equity are key development issues in South Asia, a region that is home to half the world's poor and where wheat is a major crop, but where there has been little research on the role of gender in wheat-based cropping systems. "We lack evidence about which groups are poor and excluded and about the nature of their production, consumption and marketing issues," said Tahseen Jafry, a professor at Glasgow Caledonian University, UK, who specializes in gender and justice issues associated with climate change and agriculture. "But such groups clearly need better ways to access, adapt, adopt and apply new knowledge about technologies, institutions, policies and markets, so they can fully benefit from new developments."