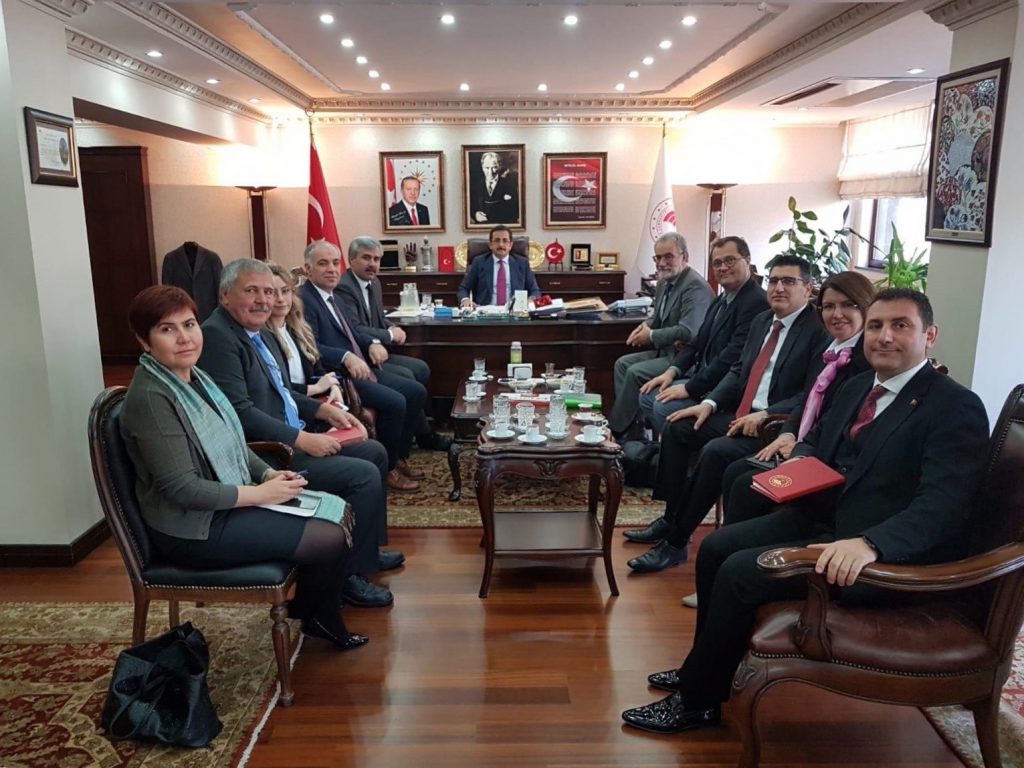 Wheat research leaders from the International Maize and Wheat Improvement Center (CIMMYT) and the International Center for Agriculture in the Dry Areas (ICARDA) recently traveled to Turkey to discuss continued collaboration among Turkey's Ministry of Agriculture and Forestry and the two institutions.
Hans Braun, director of CIMMYT's Global Wheat Program and the CGIAR Research Program on Wheat and Michael Baum, program director for Biodiversity and Crop Improvement at ICARDA, met with Deputy Minister Mustafa Aksu and General Director for Agricultural Research of the Turkish Ministry of Agriculture and Forestry (GDAR) Ozkan Kayacan to evaluate the current and potential areas for collaboration, both in Turkey and the region.
Turkey and CIMMYT have a long history of joint research dating back nearly 50 years Joint research includes the International Winter Wheat Improvement Program (IWWIP), a joint Soil Borne Pathogens Program based in Turkey, among other programs such as the Delivering Genetic Gain in Wheat (DGGW) program.
"Our relationship with Turkey has been longstanding and very fruitful," said Hans Braun. "We are pleased to continue and grow this partnership between CGIAR Centers and Turkey towards a bigger CGIAR-wide crop improvement initiative."
IWWIP, a joint program of Turkey's Ministry of Agriculture and Forestry and CIMMYT since the mid-1980s with ICARDA joining in 1991, develops winter wheat germplasm for Central and West Asia and facilitates a winter wheat germplasm exchange for the global breeding community. The program works jointly with research institutes of the Ministry of Agriculture and Forestry to distribute germplasm globally through observation nurseries around the world. At least 42 varieties from IWWIP have been released in Afghanistan, Armenia, Azerbaijan, Georgia, Iran, Kazakhstan, Kyrgyzstan, Pakistan, Tajikistan, Turkey, Turkmenistan and Uzbekistan.
The CIMMYT-Turkey Soil Borne Pathogens Program, a world-class center for research on soil borne pathogens, benefits from ongoing support by the Turkish Ministry of Agriculture and Forestry to fight against diseases affecting cereal crops, which occupy 65 percent of Turkey's farmland.
During the one-day meeting, the group, which included representatives from the Turkish Ministry's Field Crops Department, IWWIP, the Sakarya Research Institute and others, reviewed current progress of the ongoing joint programs and developed work plans for next steps to improve the strong cooperation. New areas of collaboration with potential support by the Turkish government include joint research with CIMMYT's maize program and opportunities for capacity building support in wheat improvement.
Meeting attendees included Turkish Ministry of Agriculture and Forestry Deputy General Directors Ilhan Aydin and Ihsan Arslan, Head of Field Crops Department Ayfer Sahin, IWWIP Coordinator Fatih Ozdemir, Sakarya Research Institute Director Yavuz Agi, and Specialist Merve Altan, CIMMYT Global Wheat Program Director Hans Braun; CIMMYT Country Representative for Turkey Abdelfattah A.S. Dababat, CIMMYT Consultant Seher Turkyilmaz Sinclair, ICARDA Program Director Michael Baum, and Turkey Country Representative for ICARDA Mesut Keser.