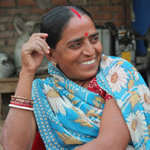 CSISA Aids Female Farmers in India

Female farmers in India are not only responsible for managing the farm work and household chores, but have increasingly become a part of the sowing, weeding and harvesting of crops. The Cereal Systems for South Asia (CSISA) project is working with female farmers in Bihar to ensure that women are learning and developing new skills and getting information on improved farming technologies and practices.
In 2014, more than 100 female farmers in Muzaffarpur district planted their wheat using zero tillage technology. Watch the video above to learn more about the initiatives implemented by CSISA in India.
Tags: Asia, CSISA, female, gender, India, Wheat, zero tillage