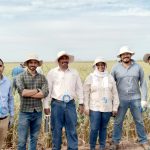 Empowering the next generation of wheat breeders

by Emma Orchardson
​In May 2020, two PhD students from India – Rathan ND and Kuldeep Yadav – completed a three-month training program for wheat breeders, which took place at CIMMYT campuses in Mexico.
Both were supervised by Velu Govindan, Itria Ibba and Susanne Dreisigacker, and received financial support from the World Bank-funded NAHEP-CAAST Fellowship Program, which supports training programs outside of India.
"This is a great opportunity for young PhD students," says Govindan. "There are new advances in wheat breeding, especially in terms of modern genomics tools and technologies, but the crop breeder should be empowered with scientific acumen to decide which tools to use and integrate in their crop improvement program to accelerate development and delivery of climate-resilient nutritious crops."
The training program – Application of classical breeding and molecular tools for improving wheat quality and yield determining traits – helps to collate and adopt modern-day tools such as genomics and high-throughput phenotyping methods to accelerate the rate of genetic gains and address the issue of food and nutrition security. During their placement the students were exposed to both field-based breeding at CIMMYT's Obregon site and wheat quality and molecular breeding at the main campus at El Batán.
Rathan is completing a PhD in Genetics and Plant Breeding at the Indian Agricultural Research Institute (IARI) in New Delhi and hopes to work in the Indian Agricultural Research Service or a CGIAR Center following his degree.
The highlight of his time at CIMMYT was being able to carry out fieldwork in Obregon, where he particularly enjoyed working on individual plant selection. "I also really enjoyed interacting with scientists and technicians who are very knowledgeable, helpful and friendly. The working environment and research facilities at CIMMYT helped me to learn research methodologies without any stress or difficulties."
The only major challenge he faced was returning home at the end of his placement. "My stay was scheduled for three months but because of the COVID-19 situation I ended up staying for four and a half months. Fortunately, I got a special flight to Mumbai and reached home safely," he explains. "CIMMYT's support for my whole journey from the date I started my training program till sending me back is highly appreciable and I am very thankful to CIMMYT and my research advisors."
Tags: molecular tools, training, wheat breeding
Trackback from your site.