Experts gather in Turkey to share findings on the diversity and health benefits of wheat
Highlights from the International Conference on Wheat Diversity and Human Health which took place in Istanbul this week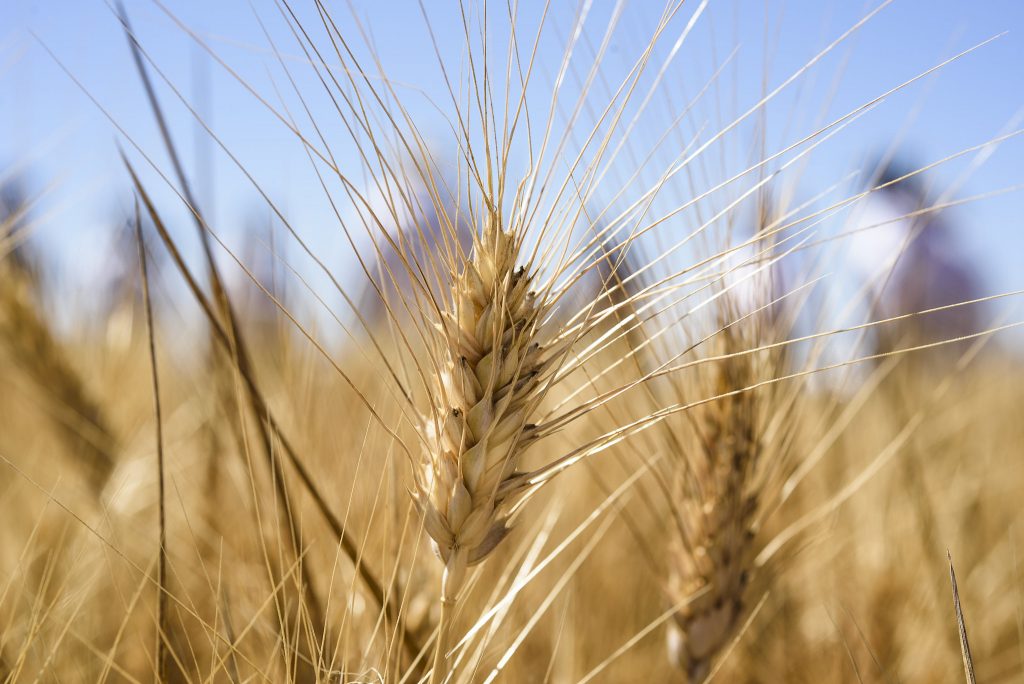 Istanbul hosted a milestone conference this week convening experts from the region and the globe to examine the link between wheat and human health. Although wheat is the second most popular food crop in the world, and a vital source of food and nutrition for humans dating from the earliest days of agriculture, its reputation as a health food has taken a hit in western popular culture in recent times.
The International Conference on Wheat Diversity and Human Health, makes a strong, scientifically supported case for a range of health benefits from wheat and its countless varieties, relatives and the foods made from them.
Beyond the well-publicized benefits of consuming fiber from whole grain wheat products – including lower risk of coronary disease, diabetes, hypertension, obesity, Type 2 diabetes and colon cancer – scientists at the conference affirmed that wheat also contains compounds such as phenolics, flavonoids and carotenoids that:
have antioxidant and anti-inflammatory properties,
control obesity,
reduce the risk of cancer and chronic diseases,
have a beneficial effect on the working memory,
can prevent neurological diseases such as Alzheimer's and Parkinson's diseases,
can delay aging and
can prevent Vitamin A deficiency, among many other attributes.

As remarkable as these benefits may be, wheat's potential for improving nutrition and health worldwide is even greater.
A number of wheat scientists from the International Maize and Wheat Improvement Center (CIMMYT) presented evidence this week on new paths to further increase and promote these traits in wheat.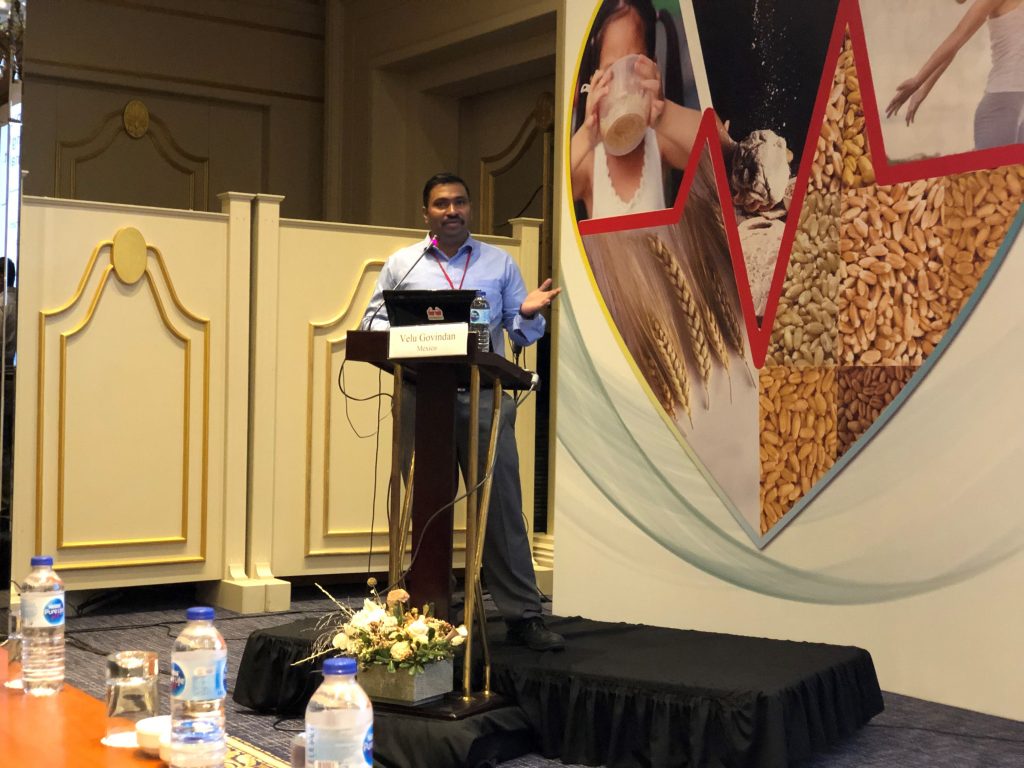 CIMMYT senior scientist and wheat breeder Velu Govindan explained the progress and potential of breeding wheat with enhanced levels of grain zinc and iron as a cost-effective, sustainable solution to malnutrition. To date, more than 12 biofortified high zinc wheat varieties have been released, reaching close to 1 million households in target countries such as India and Pakistan. With the help of advanced genomics and speed breeding these varieties have the potential to become the standard for farmers, particularly in developing countries.
CIMMYT cropping systems agronomist ML Jat and his co-authors demonstrated how farming techniques that improve soil health, diversify production and enhance growing environments also increase the nutritional quality of wheat – critical in the face of climate change and higher CO2 concentrations that are projected to reduce the protein content of rice and wheat by almost 8% by 2050.
Maria Itria Ibba, head of CIMMYT's wheat quality lab, shared an idea for helping improve global dietary fiber consumption without radically changing eating habits: develop wheat with increased Arabinoxylans (AX) — fiber components associated with reduced risk of diabetes, cholesterol, cardiovascular disease and colon cancer located in the endosperm, the part of the grain most often used in refined flour. Her preliminary findings suggest that AX content is controlled by a relatively small number of genes, which could be identified through molecular markers to effectively select for this trait in the breeding process.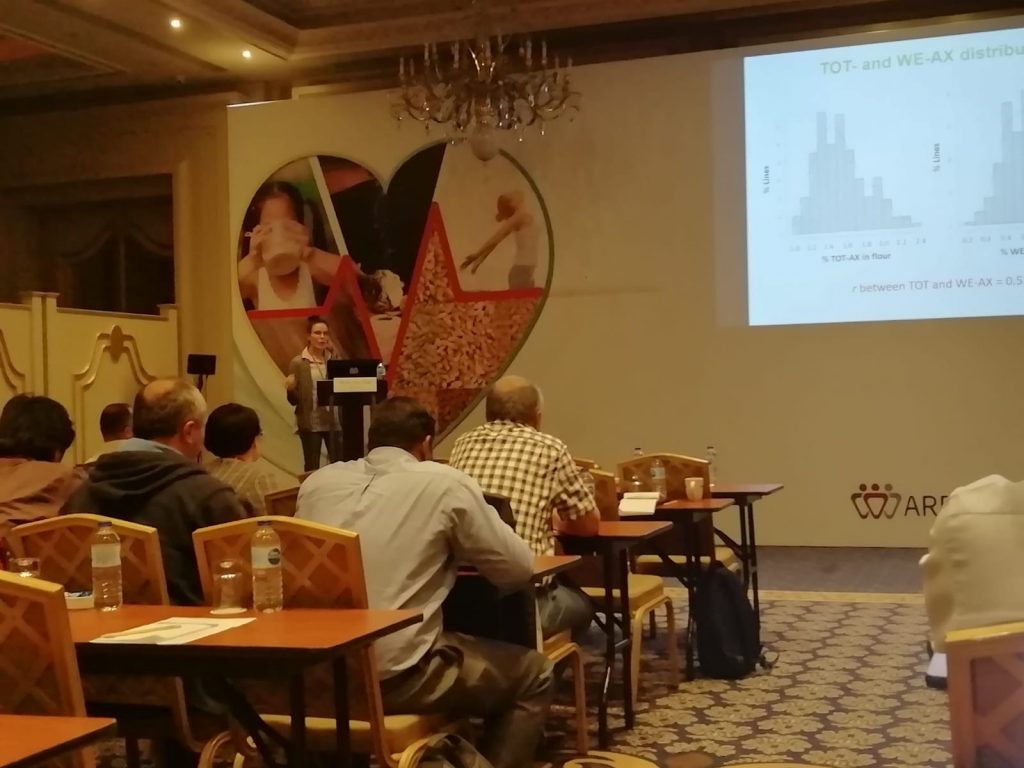 Protecting and promoting wheat diversity
Many presenters discussed ways to protect and promote wheat's wide diversity – from modern varieties, traditional landraces, ancient grains, colored wheat and different species – all of which have huge potential to enrich our diet.
Alex Morgunov, leader of the International Winter Wheat Improvement Program and a conference organizer, described his research in Afghanistan – where wheat is the life-sustaining food grain and no meal is complete without a slice of wheat bread — to protect, improve, and distribute its rare and numerous valuable wheat landraces. These ancient varieties bring diversity, distinct baking characteristics and nutrition from farmer fields to bakeries and to research stations, where they are employed in breeding efforts to capture their unique desirable traits.
As Tom Payne, head of CIMMYT's Wheat Germplasm Collections pointed out, diversity is a crucial element to health, and genebanks such as CIMMYT's safeguard some of the largest and most widely used collections of crop diversity in the world, critical to ending hunger and improving food and nutrition security.
Hans-Joachim Braun, director of CIMMYT's global wheat program and co-chair of the event concluded the conference with remarks on future perspectives for wheat diversity and human health. He highlighted how 830 million people in the world – 11% of the population- still do not have enough to eat.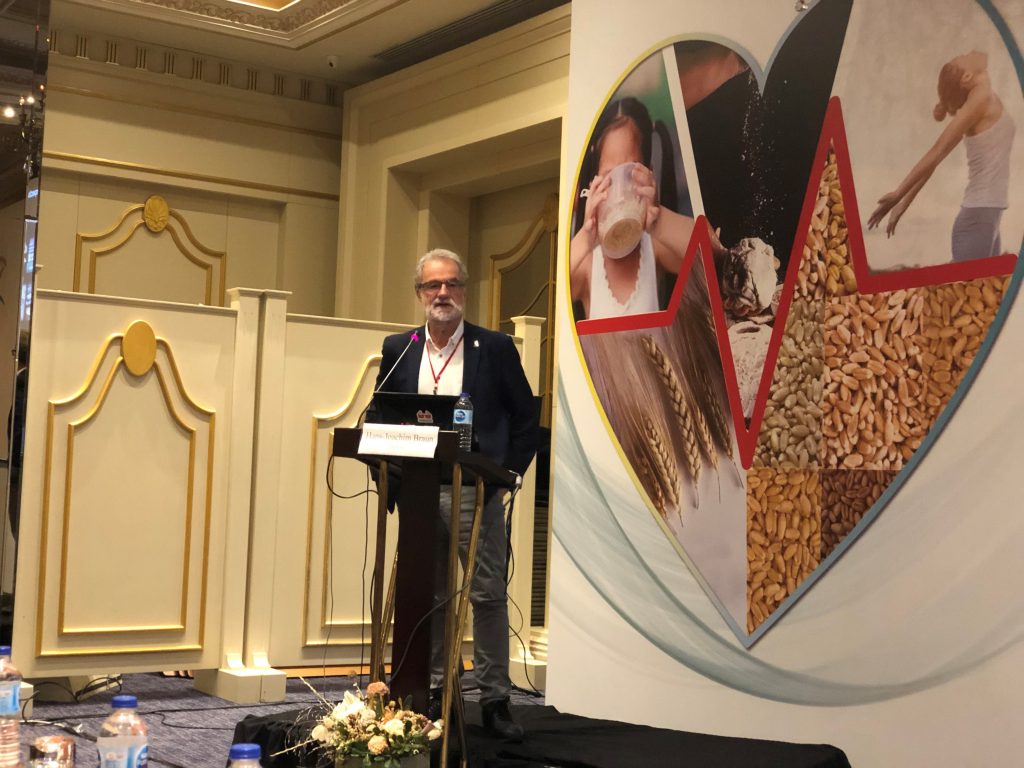 The International Conference on Wheat Diversity and Human Health took place from Oct 22 – 24 in Istanbul, Turkey.
International Conference on Wheat Diversity and Human Health, nutrition, wheat diversity, wheat health