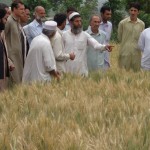 Fast-tracking wheat seed deployment in remote Pakistan regions

By Mike Listman/CIMMYT
ISLAMABAD, Pakistan (November 19,2015)-Nearly 10,000 smallholder farmers in marginal, far-flung areas of Pakistan are harvesting more, eating better, and earning cash from their wheat crops, as a result of a partnership that is working to offer widespread access to improved wheat seed and farming practices.
"The extra grain from the new varieties will be enough for my family for three additional months," said farmer Khan Said of Swat, Khyber Pakhtunkhwa, Pakistan, as he surveyed his tawny, sun-kissed wheat field. He also hoped the extra straw from his crop would earn him about US $140.
In autumn-2014, participating farmers in 63 moderately-to-highly-food-insecure districts received a 25-kilogram bag of seed of the new varieties—enough to sow a quarter hectare and compare their performance with that of traditional varieties, as well as helping to grow more seed for redistribution. The new varieties are high-yielding and resist wheat rust, a fungal disease whose three forms—stem, leaf, and yellow rust—are found on as much as half of Pakistan's wheat area and which constitute a rising threat to the crop.
"Our results show a yield advantage of more than 100% in harsh environments for the new varieties and, after just one season, farmers are attesting to significant improvements in their food security and livelihoods," said Krishna Dev Joshi, CIMMYT wheat improvement specialist who is coordinating the contributions of 27 partners with this aim. "This proves how, with better access to seed of new varieties and technical support, Pakistani farmers can benefit from the latest wheat science and replace older, rust-susceptible varieties."
According to Joshi, if half of the harvest from the new varieties were saved as seed, this could be sown on at least 30,000 hectares, producing enough additional seed to cover 1 million hectares in the third year with no extra costs, through farmer-to-farmer seed flow networks, and ultimately creating visible impacts in the project area. The follow-up surveys indicated an overwhelming acceptance of new wheat varieties, as over 87% of participating farmers saved their seeds to expand area under the varieties.
"Targeting smallholders, vulnerable people, and women-headed households has been seen as a good strategy to ensure food security and improve livelihoods," said Joshi. "We're moving forward on our vision to integrate the best wheat varieties with appropriate agronomic practices."
Initiatives are now focusing on building capacity in various public and private sector partners for sustainable impact. Encouraged by the results, the National Rural Support Program (NRSP), a not-for-profit development organization established in 1991 that fosters a countrywide network of more than 200,000 grassroots organizations across 56 districts, has committed to make the activities described part of their regular program. Recently, the NRSP Board of Directors also approved setting up a subsidiary seed company to commercialize best wheat and other crop seed varieties through their networks. Joshi said that nearly 2,000 tons of seed, including basic seed of new wheat varieties, will be produced in the far-flung areas of Pakistan, and new partnerships have been developed for Balochistan and Gilgit-Baltistan, where agriculture research and extension needs extra support, to fast-track the spread of best practices from this work.
The activities and outputs are part of the Agricultural Innovation Project (AIP) for Pakistan, led by CIMMYT and funded by the U.S. Agency for International Development (USAID).
Tags: Agricultural Innovation Program, Pakistan, USAID, Wheat, wheat impacts