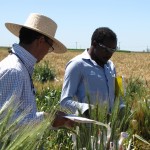 Forty Years of Wheat Training at CIMMYT

By Katie Lutz/CIMMYT
EL BATAN, Mexico (May 26, 2015)- "After three months, you will be a part of the CIMMYT family," said Amor Yahyaoui, Global Wheat Program (GWP) Training Officer, as he addressed the 30 participants in the Basic Wheat Improvement Course (BWIC) on their first day at CIMMYT Headquarters, El Batán.
The 2015 wheat trainees hail from 14 countries, and have varying degrees of experience and different backgrounds. "These scientists come in from all different spectrums, but this course puts them all on the same level, with one objective: to learn," explained Yahyaoui.
The BWIC is a three-month intensive program at the Campo Experimental Norman E. Borlaug (CENEB) in Ciudad Obregon, Sonora, that targets young and mid-career scientists, focusing on applied breeding techniques in the field.
Borlaug's Vision
With the introduction of semi-dwarf wheats in South Asia during the Green Revolution, Norman Borlaug saw the need for training. He realized that if modern wheats and new technologies were distributed but scientists were not trained to use them, this would result in failure and the new, improved varieties' anticipated yield potential would not be realized.
"Training was the cornerstone of the Green Revolution; training was equal in importance to germplasm development," said Jesse Dubin, retired CIMMYT plant pathologist who has spent the last several years as a consultant for the GWP training program.
As years have passed, scientists are even more interested in coming to train where the Green Revolution began. In many ways, the BWIC mirrors the approach Borlaug used when developing the first training course in 1968.
Borlaug's philosophy was to take trainees from the comfort of their own countries, and put them in the fields in Mexico to learn. "We only deal with science here; regardless of gender, religion, ethnicity or age," said Yahyaoui.
This year, trainees came in from China, Sudan, Afghanistan, USA, Pakistan, Tunisia, Georgia, Egypt, India, Nepal, Ethiopia, Japan, Mexico and Morocco. The program is designed so that trainees will build an international network of scientists.
"We all come from different cultures, countries and religions. I don't know how old everyone is, but it feels like we're all the same age, even though most have much more experience and education than me," said Nino Katcharava of Georgia about her fellow 2015 trainees. "After just a week, these people became my friends and family. I have learned so much from them, they are my everything in Mexico."
Impact on National Programs
The GWP training program has benefited national research programs since its inception. The increasing number of wheat scientists in major wheat producing countries reflects the great need and interest of national programs in training young scientists. One of the most frequent requests from countries and national programs is for more trained scientists.
Since 1968, over 1000 scientists from 106 countries have participated in GWP training courses in Mexico. The training program has helped form positive bonds between CIMMYT and the trainees' countries of origin. Course alumni have gone on to lead national programs, receive advanced degrees and contribute nationally and internationally to wheat improvement.
Becoming Alumni
The current trainees have concluded their time in Obregon. And at the end of the week, the 2015 BWIC participants will have finished their training and will join this prestigious group of alumni.
"I am very lucky to be here. I think this is my first time learning what science really is. I realize I have been working without all of the knowledge, but I have learned now how to apply science and bring change," said Girum Kifle of Ethiopia. "At CIMMYT I have learned to think globally. I didn't know people thought about everyone else around the world. My goal will always be to help Ethiopia, but I want to go further, I also want to help the world."
Tags: breeding, capacity development, CIMMYT, Green Revolution, Norman Borlaug, training, Wheat