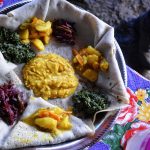 From popcorn to roti

This post by Alfonso Cortés and Emma Orchardson was originally published on the CIMMYT website.
When asked to picture a food made of whole grains, your first thought might be a loaf of brown, whole-wheat bread. But wholegrain dishes come in all forms.
Take a virtual journey around the world to see the popular or surprising ways in which whole grains are eaten from Mexico to Bangladesh.
A basket contains an assortment of whole, unprocessed maize and wheat kernels. Photo: Alfonso Cortes/CIMMYT
Popcorn, a wholegrain food and source of high-quality carbohydrates eaten across the world. (Photo: Alfonso Cortes/CIMMYT)
Roasted and boiled maize ears on sale in Xochimilco, in the south of Mexico City. Photo credit: M. DeFreese/CIMMYT.
Maize-flour tortillas, a staple food eaten daily in Mexico and across Central America. (Photo: Alfonso Cortes/CIMMYT)
Githeri, a staple food made with maize and beans, Kenya. Photo credit: CIMMYT
A loaf of whole-wheat bread, which could look brown or white in color, depending on how the wheat flour is processed. (Photo: Mattie Hagedorn)
A woman prepares roti in Bangladesh, an unleavened whole wheat bread eaten across the Indian sub-continent. Photo credit: S. Mojumder/Drik/CIMMYT.
Tabbouleh, a Levantine salad made with a base of soaked bulgur wheat. Photo credit: Moritz Guth
Granola, a popular breakfast food made with a base of rolled and toasted whole oats. (Photo: Alfonso Cortes/CIMMYT)
Injera, an Ethiopian sourdough flatbread made from wholegrain teff flour. Photo Credit: Rod Waddington.
A plate of cooked brown rice will accompany a meal in the Philippines. Photo: IRRI
Tags: culture, food, whole grain
Trackback from your site.