Gender in WHEAT

Women are deeply engaged in wheat-based agriculture, research and extension, but women's use of improved technologies remains low, and they face diverse barriers to accessing finance, farmland, machinery, learning opportunities, networks, and other vital resources.
WHEAT pursues a gender strategy that promotes equality, equity, empowerment and mainstreaming of gender analysis in our work and that of others.
Gennovate
A "bottom-up" idea proposed by a small CGIAR gender research team with CIMMYT leadership in 2013, Gennovate trained and supported field teams who conducted focus groups and interviews with more than 7,500 rural men and women in 26 countries. Gennovate works across 11 CGIAR Research Programs and nearly a dozen crops and other agricultural outputs.
In its report Gender and Innovation Processes in Wheat-Based Systems, the initiative found that gender norms clearly underpin power relations and privilege men's agency, authority, and resource control, but that these norms are evolving and, in villages where circumstances foster the participation and agency of both women and men in agricultural innovation, the evidence points to more rapid and inclusive rural development. Additional findings for WHEAT include the following: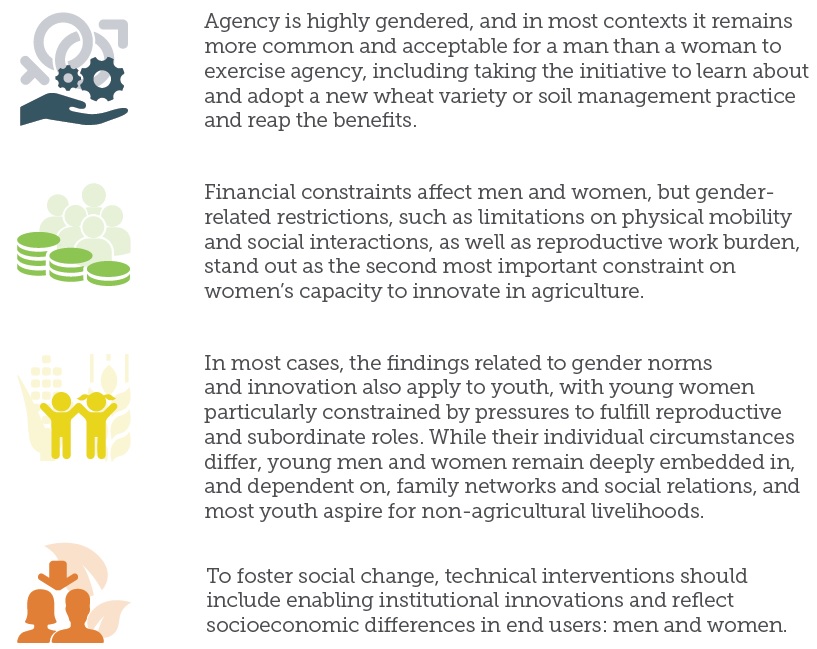 Understanding Gender in Wheat-based Livelihoods for Enhanced WHEAT R4D Impact
The Understanding Gender in Wheat-based Livelihoods for Enhanced WHEAT R4D Impact project, funded by Germany'sFederal Ministry for Economic Cooperation and Development (BMZ) ran from 2014 to 2018. tHe project sought to improve the focus on gender and social equity in wheat-related research and development in Ethiopia, Pakistan and Afghanistan. Its research results include case studies, gender audits, stakeholder analysis and policy briefs aimed to improve understanding of gender norms and strengthen gender and social equity in the wheat sectors of the three countries, to help both male and female farmers benefit from agricultural innovations. See  publications from the project on our gender in wheat publications page and a video on understanding gender in wheat-based livelihoods in Ethiopia.
Strengthening African women's participation in wheat farming
Click here to read about action research led by Dina Najjar, Social and Gender Specialist at ICARDA, to increase women's income generation and contributions to food security, while addressing structural inequalities in access to inputs and services such as information, training, and microcredit, in wheat cropping systems in Nigeria and Sudan.