Oct. 12, 2020
This story is based on a piece posted on the Borlaug Global Rust Initiative's (BGRI) blog written by Linda McCandless. View the original post here.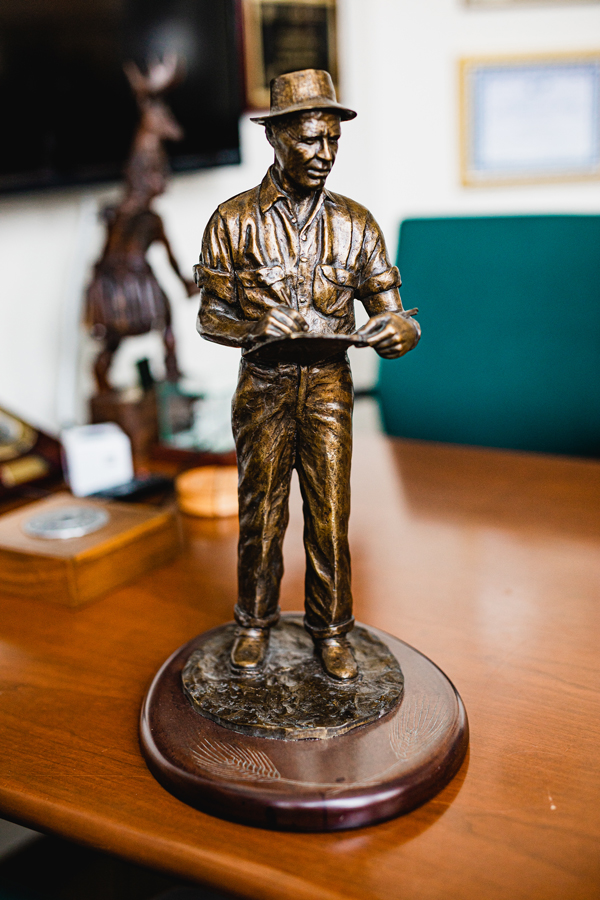 Hans Braun, the director of the Global Wheat Program (GWP) at the International Maize and Wheat Improvement Center (CIMMYT), has received the Norman Borlaug Lifetime Achievement Award at the 2020 Borlaug Global Rust Initiative (BGRI) Technical Workshop on Oct. 9, for nearly four decades of wheat research.
"We rest on the shoulders of a lot of mighty people who have come before us," said Ronnie Coffman, vice chair of BGRI, speaking to a global audience of wheat scientists and farmers at the Technical Workshop as he presented four individuals with the award. "Each of these individuals has contributed to the improvement of wheat and smallholder livelihoods in major and enduring ways."
Responsible for technical direction and implementation of the GWP and CGIAR Research Program on Wheat (WHEAT), Hans Braun leads and manages a team of 40 internationally recruited scientists who develop wheat germplasm. This germplasm is distributed to around 200 cooperators in wheat producing countries worldwide, and is responsible for the derived varieties being grown on more than 50 percent of the spring wheat area in developing countries.
Lifetime achievement
"In his 35 years with CIMMYT, Hans has become familiar with all major wheat-based cropping systems in the developing and developed world," said Coffman, who called Hans Braun an important collaborator and close personal friend.
"Hans was integral to the BGRI's efforts in preventing Ug99 and related races of rust from taking out much of the 80% of the world's wheat that was susceptible when Ug99 was first identified in 1999," said Coffman. He "has been an integral partner in the development and implementation of the Durable Rust Research in Wheat (DRRW) and Delivering Genetic Gain in Wheat (DGGW) projects."
At the virtual BGRI workshop, Hans delivered a keynote speech accepting the award and discussing the bright future of wheat, despite the many challenges that lie ahead.
"The future of wheat improvement in developing countries remains on the shoulders of public organizations and institutions. It is paramount that we share germplasm, information and knowledge openly," he said.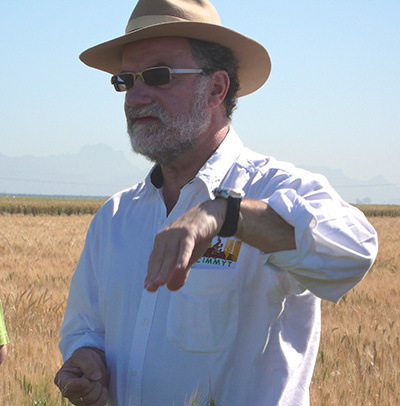 He emphasized the need to "keep the herd together" and maintain strong, global partnerships.
He also noted the importance of continuing to improve nutritional content, growing within planetary boundaries, and taking farmers' preferences seriously. He highlighted CIMMYT's exceptional capacity as one of the world's largest and most impactful wheat breeding programs, and encouraged national partners to continue their close collaboration.
He recalled what Norman Borlaug told him in 2004, when he became head of the Global Wheat Program: "'Hans, I have confidence you can lead the program and I will always help you' – and how he did."
"I would like to thank all with whom I cooperated over four decades and who contributed to make CIMMYT's program strong," concluded Hans. "I am very optimistic that the global wheat community will continue to develop the varieties farmers need to feed 10 billion."
Read the original article, learn more about the other highly distinguished scientists receiving this high honor, and access the entire workshop outcomes on the BGRI website.
---