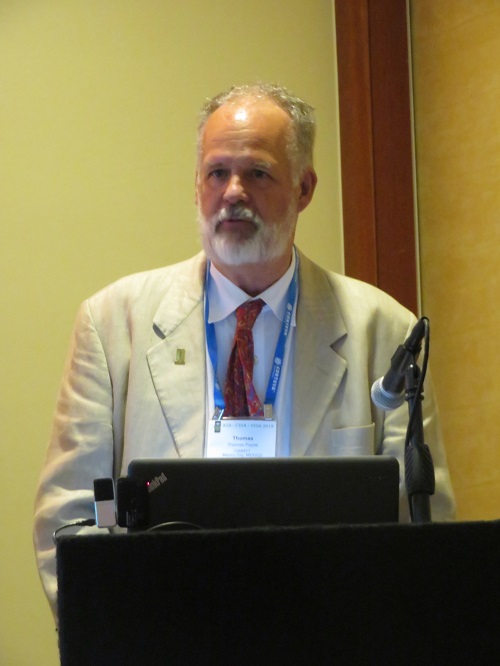 Thomas Payne, head of the Wheat Germplasm Bank at the International Maize and Wheat Improvement Center (CIMMYT), was awarded the Frank N. Meyer Medal for Plant Genetic Resources this morning at the annual meeting of the American Society of Agronomy, the Crop Science Society of America, and the Soil Science Society of America in San Antonio, Texas.
The Frank N. Meyer Medal recognizes contributions to plant germplasm collection and use, as well as dedication and service to humanity through the collection, evaluation or conservation of earth's genetic resources. The award was presented by Clare Clarice Coyne, U.S. Department of Agriculture (USDA) research geneticist.
As an award recipient, Thomas Payne delivered a lecture that touched on the philosophy, history and culture surrounding plant genetic diversity and its collectors, and CIMMYT's important role in conserving and sharing crop diversity.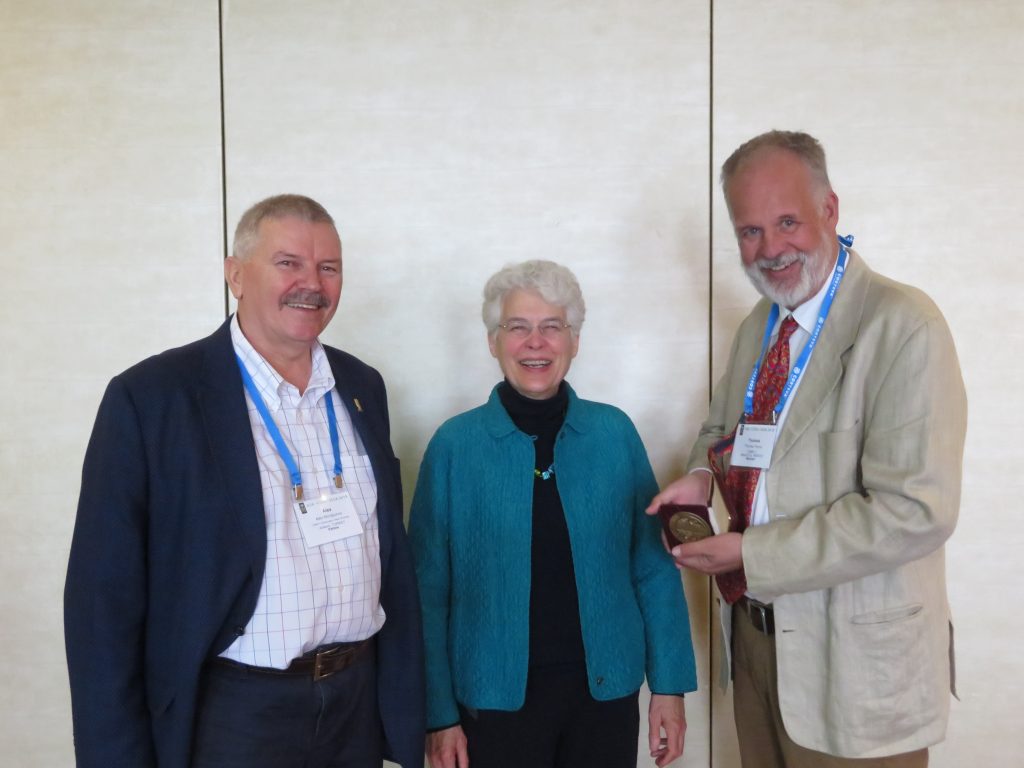 Thomas Payne has focused his career on wheat improvement and conservation. In addition to leading CIMMYT's Wellhausen-Anderson Wheat Genetic Resources Collection, one of the world's largest collection of wheat and maize germplasm, he manages the CIMMYT International Wheat Improvement Network.  He is the current Chair of the Article 15 Group of CGIAR Genebank Managers, and has served as Secretary to the CIMMYT Board of Trustees.  His association with CIMMYT began immediately after obtaining a PhD at the University of Nebraska-Lincoln in 1988, and he has held positions for CIMMYT in Ethiopia, Mexico, Syria, Turkey and Zimbabwe. 
"CIMMYT is the largest distributor of maize and wheat germplasm worldwide, with materials emanating from its research and breeding programs, as well as held in-trust in the germplasm bank. The Meyer Medal is a reflection of the impact CIMMYT makes in the international research community — and in farmers' fields throughout the developing world," he said.
Located at CIMMYT headquarters outside Mexico City, the CIMMYT Wheat Germplasm Bank contains nearly 150,000 collections of seed of wheat and related species from more than 100 countries. The collections preserve the diversity of unique native varieties and wild relatives of wheat and are held under long-term storage for the benefit of humanity, in accordance with the 2007 International Treaty on Plant Genetic Resources for Food and Agriculture. They are also studied and used as a source of diversity to breed for crucial traits such as heat and drought tolerance, resistance to crop diseases and pests, grain yield productivity and grain quality. Seed is freely shared on request to researchers, students, and academic and development institutions worldwide.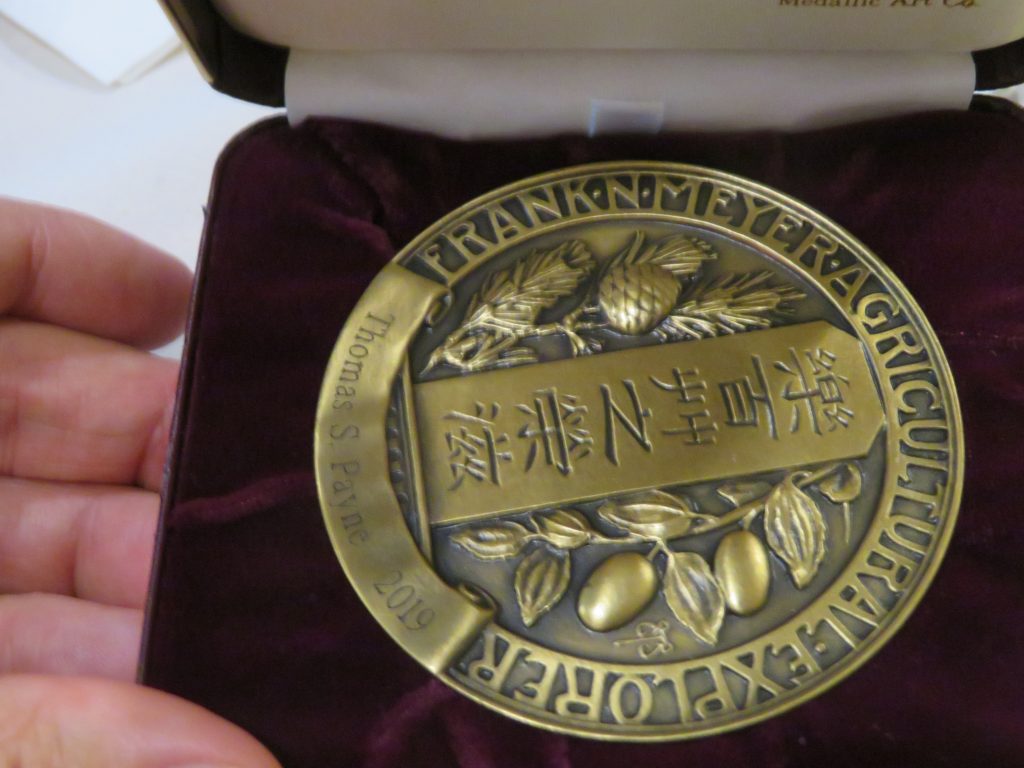 In his remarks, Thomas Payne also highlighted the story of Frank N. Meyer, for whom the award is named. Meyer, an agricultural explorer for the USDA in the 1900s, spent a decade traveling under harsh conditions through China to collect new plant species suitable for production on America's expanding farmland. Among more than 2,500 plants that he introduced to the U.S. — including varieties of soybeans, oats, wild pears, and asparagus — the Meyer lemon was named in his honor. As Payne pointed out, Meyer worked during a historical period of great scientific discoveries, including those by his contemporaries Marie Curie and the Wright brothers.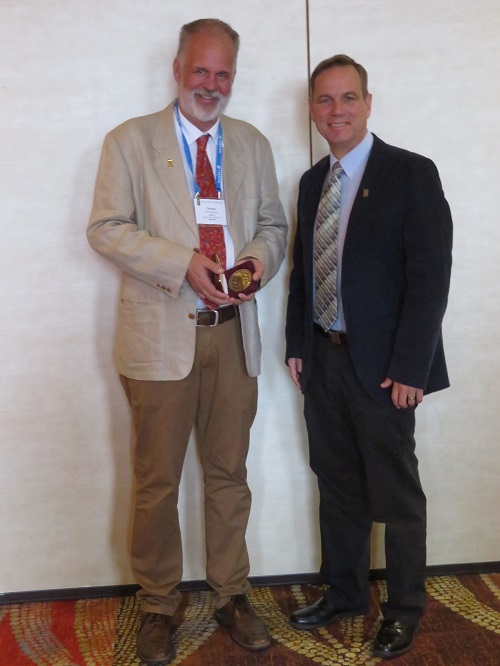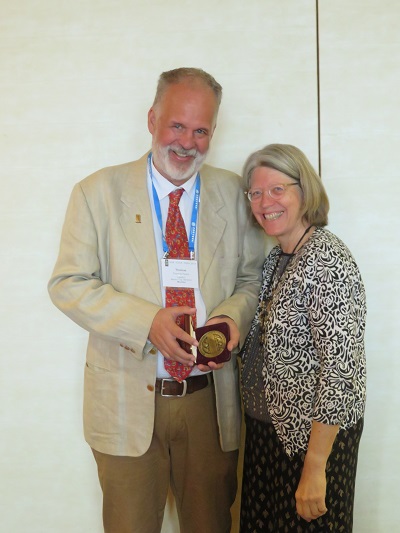 Among those attending the ceremony were Thomas Payne's sister, Susan Payne and CIMMYT colleagues Kevin Pixley, director of Genetic Resources; Denise Costich, head of the CIMMYT Maize Germplasm Bank; and Alexey Morgunov, head of the Turkey-based International Winter Wheat Improvement Program.
The head of CIMMYT's Global Wheat Program Hans-Joachim Braun and CIMMYT scientist Alexey Morgunov are also receiving honors or awards this week at the annual meeting of the American Society of Agronomy, the Crop Science Society of America, and the Soil Science Society of America. The meeting convenes around 4,000 scientists, professionals, educators, and students to share knowledge and recognition of achievements in the field.