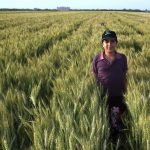 Iran and CIMMYT join forces to boost wheat farming productivity

By Mike Listman/CIMMYT
TEHRAN, Iran (September 12, 2016) – Heat- and drought-tolerant varieties and improved practices will raise farmers' incomes, offer more affordable food and reduce costly imports.
The government of Iran signed a momentous 6-year agreement with The International Maize and Wheat Improvement Center(CIMMYT) for joint work to raise the productivity of the country's wheat farms on some 2.5 million hectares—roughly 13 percent of the nation's cultivated area.
Researchers of Iran and CIMMYT will develop and share improved varieties, draw on wild grasses of Iran as sources of resilience in breeding, improve policies and seed production/distribution systems and spread the use of conservation agriculture practices.
"I'm extremely pleased about this agreement with a long-time, valued partner," said Martin Kropff, director general of CIMMYT. "It bespeaks Iran's serious focus on providing affordable food and generating income for farmers. It also comes at a time when agri-food systems everywhere face daunting challenges, like more frequent droughts and less available irrigation water."
To read more about the agreement between CIMMYT and Iran, read the full news release here.