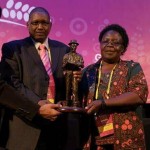 Kenya wheat breeders win the 2015 BGRI Gene Stewardship Award

By Julie Mollins/CIMMYT
NAIROBI, Kenya (October 8, 2015)- Plant pathologist Ruth Wanyera and wheat breeders Godwin Macharia and Peter Njau of the Kenya Agriculture and Livestock Research Organization (KALRO) received the 2015 Gene Stewardship Award at the Borlaug Global Rust Initiative Workshop (BGRI) in Sydney, Australia.
"The KALRO team has done an outstanding job – their work has had significant global impact by accelerating the capacity of developing countries to protect themselves against this swift-moving and devastating disease," said Sridhar Bhavani, a wheat breeder who leads the International Maize and Wheat Improvement Center (CIMMYT) stem-rust screening nurseries in East Africa and nominated the team for the award.
Since 1998, Ug99, which reduces grain to useless papery chaff, has been creeping across Africa to the Middle East from its origin in Uganda. Altogether, 11 confirmed races in the Ug99 lineage have been detected in Egypt, Ethiopia, Eritrea, Iran, Kenya, Mozambique, Rwanda, South Africa, Sudan, Tanzania, Uganda, Yemen and Zimbabwe, showing that the pathogen has evolved and expanded widely, according to new research.
Scientists fear the disease could decimate the global wheat supply if it spreads to the major Asian wheat growing areas of India and China.
The KALRO team has facilitated the testing of wheat lines from all over the world, screening close to 400,000 accessions since the project started in 2008, and currently able to screen some 50,000 lines a year, all under the frequent and severe natural infections of stem rust that occur at the team's Njoro, Kenya, research station.
The team has also managed CIMMYT-Kenya "shuttle breeding," whereby over the last decade lines developed in CIMMYT programs in Mexico and elsewhere are tested at Njoro. "Several new breeding lines from this effort combine high yields with resistance to Ug99 stem rust and to yellow rust and are included in international nurseries sent to partners worldwide," said Bhavani.
"The KALRO team generates reliable phenotypic data to identify and characterize new resistance genes," he said. "They also develop, release, and multiply seed of resistant varieties for Kenya, while conducting surveillance, training, and extension and promotion activities."
Bhavani cited the release of seven new varieties that yield 30-40% more than older cultivars, contributing to an increase average wheat yields in Kenya from 2.4 to 3.0 tons per hectare in the last 5 years.
What is gene stewardship?
The BGRI Gene Stewardship Award recognizes a researcher or team of researchers in a national breeding program or other institution who demonstrate excellence in the development and spread of rust resistant wheat varieties, while encouraging the genetic diversity and complexity of disease resistance and furthering BGRI's goal of responsible gene deployment and stewardship.
Together with the Indian Council of Agricultural Research (ICAR), the International Centre for Agricultural Research in Dry Areas (ICARDA), the Food and Agriculture Organization of the United Nations (FAO) and Cornell University, CIMMYT helped initiate BGRI in 2008. BGRI is fostered by the Durable Rust Resistance in Wheat (DRRW) project, a collaborative effort among 22 research institutions and led by Cornell University.
Tags: award, BGRI, Borlaug, breeding, CIMMYT, DRRW, ICARDA, KALRO, Kenya, stem rust, Ug99, Wheat