By Katie Lutz/CIMMYT
MEXICO CITY, Mexico (February 2, 2017) — Reductions of spike-ethylene, a plant-aging hormone, could increase wheat yields by 10 to 15 percent in warm locations, according to a recent study published in New Phytologist journal.
Ethylene is usually produced by plants at different developmental stages and can cause a wide range of negative effects on plant growth and development.
When hot weather hits a wheat field an increase in ethylene levels can lessen the amount of grains produced on ears or spikes by limiting the export of carbohydrates to pollen development.
"It was important to understand how different wheat varieties show yield responses to both ethylene gradients and ethylene inhibitors," explained Ravi Valluru, wheat physiologist at the International Maize and Wheat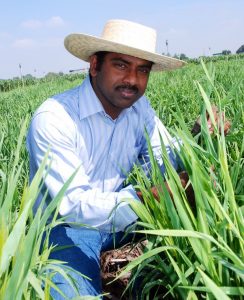 Improvement Center (CIMMYT), adding that the research was primarily done in northwestern Mexico using both landraces and modern lines under heat-stressed field conditions.
Valluru is part of a collaborative team of scientists from CIMMYT and Britain's Lancaster University investigating ways to reduce ethylene production in wheat plants as a means to improve yields in hot weather conditions.
The team treated a diverse set of wheat varieties with silver nitrate, an inorganic compound traditionally used for medicinal and other purposes and that has been shown to control ethylene levels in plants.
"We have known for a long time that ethylene has negative effects on crop yields, but efforts have been meager so far to bring this knowledge into breeding programs," Valluru said. "It's very exciting that CIMMYT has initiated the important steps toward bringing the ethylene story to wheat breeding through this project."
The study has revealed that different wheat varieties responded differently to ethylene and ethylene inhibitors. That's good news, because breeders can then select the appropriate lines for growing in warmer climates to incorporate into breeding programs.
According to Valluru, breeders have selected for high yield over many years that has inadvertently lowered ethylene expression in modern, improved varieties.
"Being a gas, ethylene is a kind of 'ethereal' plant growth regulator, but when produced at higher levels, has a major impact on grain setting and root growth," said Matthew Reynolds, head of the wheat physiology team at CIMMYT and co-author of the study. "Understanding it and determining its genetic bases are significant steps forward, and we can expect that this knowledge will be applied in breeding."