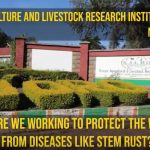 Protecting the World's Wheat – Delivering Genetic Gain in Kenya

In February 2019 filmmaker Chris Knight of International Programs at Cornell University's College of Agriculture and Life Sciences visited the Kenya Agricultural and Livestock Research Organization – Food Crops Research Institute (KALRO – FCRI) research station in Njoro, Kenya.  Wanting to visually capture how Cornell is working with CIMMYT and a global partnership of more than 25 countries to protect the world's wheat from diseases and the stress of climate change, he produced the short film Protecting the World's Wheat – Delivering Genetic Gain in Kenya .
The film features East Africa, a center of genetic diversity for wheat stem rust, a fungal pathogen that causes significant yield losses worldwide. To combat this, partner countries test more than 50,000 experimental wheat lines against stem rust in Kenya every year at the Njoro research station to ensure that newly released wheat varieties will be resistant to emerging virulent races of the stem rust fungus as they evolve and spread.
Farmers and scientists have been fighting stem rust since the domestication of wheat thousands of years ago. This brilliant dance between humans and nature will likely never stop, but by working together we can stay one step ahead of this pesky pathogen. As Ruth Wanyera, Principal Research Scientist at KALRO stated, "(Stem rust) is running, and we're also running. It's running, and we're also running. We have to do something to make sure there's food in the table. That is where my motivation is. Let's do something. Let's feed the world. Let there be food for people to eat, or for people to survive."
Tags: Cornell University, Kenya, stem rust, Wheat
Trackback from your site.