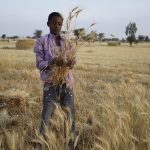 By Matthew O'Leary/CIMMYT
EL BATAN, Mexico (May 30,2017)– In an effort to stamp out hidden hunger, scientists are calling for support to make zinc-biofortification a core trait in the world's largest wheat breeding program.
At least 2 billion people around the world suffer from micronutrient deficiency, or hidden hunger, which is characterized by iron-deficiency anemia, vitamin A and zinc deficiency.
Zinc deficiency remains a crucial health issue in sub-Saharan Africa and South Asia. As a key nutrient in red meat, zinc deficiency is prevalent in areas of high cereal and low animal food consumption.