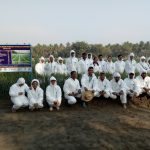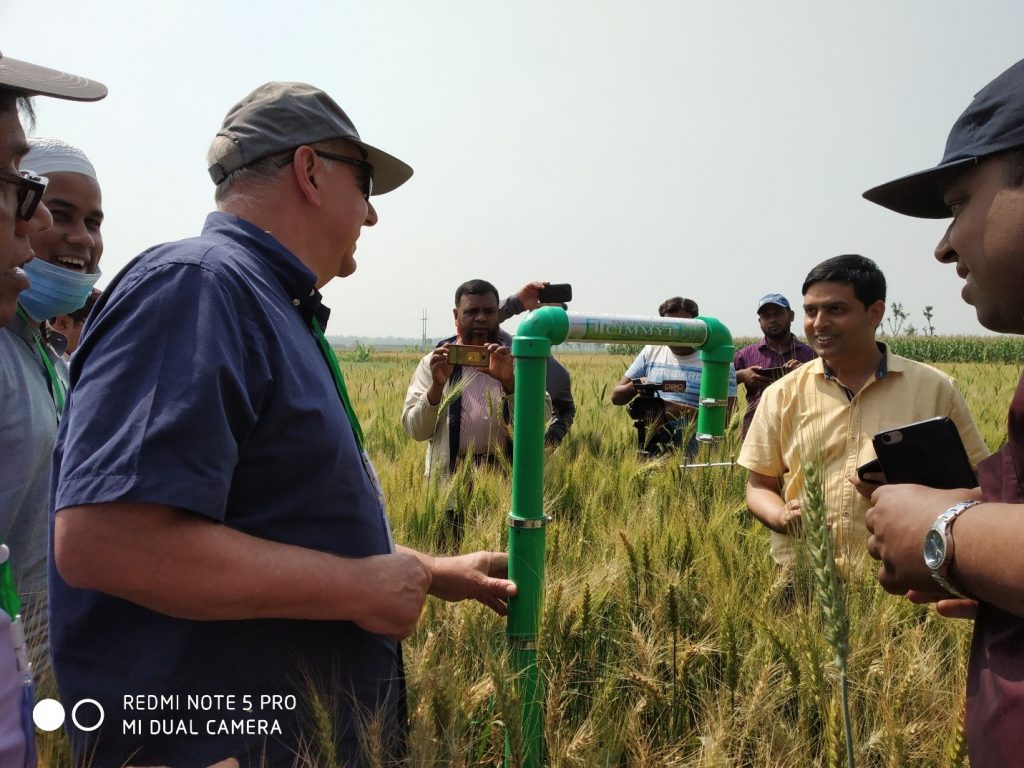 To build resilience against the threat of wheat blast, training sessions were held in Bangladesh to increase the reach of research findings and possible solutions as well as to educate the stakeholders involved. Since 2017, hands-on training on disease screening and surveillance of wheat blast have been organized every year in Bangladesh, with participation of national and international scientists. The third of its kind was jointly organized by the International Maize and Wheat Improvement Center (CIMMYT), Wheat and Maize Research Institute (BWMRI), and the Department of Agricultural Extension (DAE) Bangladesh during 19-28 February, 2019 at Regional Agricultural Research Station, Jashore with financial support from the Australian Centre for International Agricultural Research (ACIAR), the CGIAR Research Program on Wheat (WHEAT), the Indian Council of Agricultural Research (ICAR), the Krishi Gobeshona Foundation (KGF) and the U.S. Agency for International Development (USAID). The objective of the training was to learn the basic techniques of pathogen identification and its culturing, field inoculation and disease scoring and share experiences regarding combating the disease and its progress among the participants from home and abroad. Thirty five wheat scientists from China, India and Nepal as well as from BWMRI, DAE and CIMMYT in Bangladesh participated in the training.
The training was inaugurated by Kamala Ranjan Das, Additional Secretary (Research), Ministry of Agriculture, Bangladesh. The Director General of BWMRI, Dr. Naresh C. D. Barma was the Chair and Dr. T. P. Tiwari, Country Representative, CIMMYT Bangladesh and Additional Director of Jashore region of DAE were the special guests in the inaugural session. In addition to Bangladeshi experts, Dr. José Maurício C. Fernandes from Brazil, Dr. Pawan K. Singh from CIMMYT, Mexico and Dr. Timothy J. Krupnik from CIMMYT, Bangladesh presented the updates on the techniques for mitigating the disease. Dr. M. Akhteruzzaman, Deputy Director of DAE, Meherpur, who has been working very closely with wheat blast research and extension, spoke on the history and present status of wheat blast in Bangladesh. It was a unique opportunity for the trainees to listen from grass root level experience based on the real situation in the farmers' fields.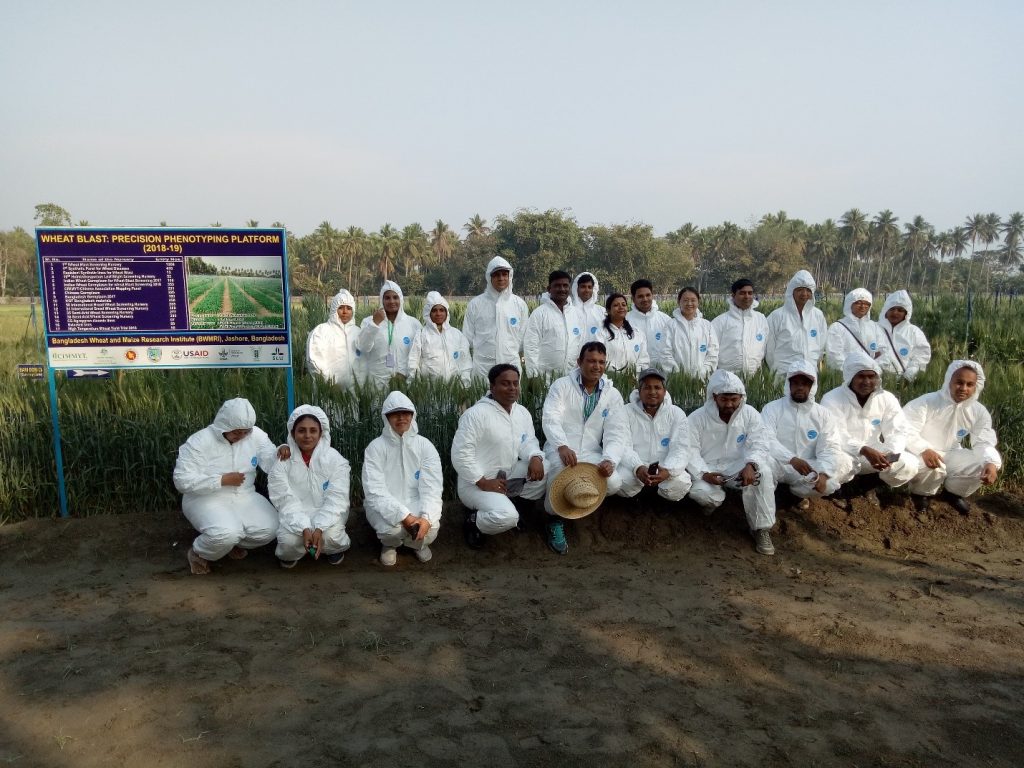 Wheat is especially susceptible to blast infection during warm and humid weather conditions. While the fungus infects all above ground parts of the crop, infection in spikes is most critical and responsible for yield loss. Hence, to determine whether blast is endemic to the specific region and also to assess the epidemic potential in unaffected regions, Dr. Fernandes developed a wheat blast forecasting model with support from CIMMYT Bangladesh. To collect data on the presence of wheat blast spores in the air, CIMMYT, in collaboration with BWMRI, installed four spore traps in four different wheat fields in Meherpur, Faridpur, Rajshahi and Dinajpur districts of Bangladesh. The results from these spore traps and weather parameters will help validate the wheat blast forecasting model. After final validation, the recommendation message will be sent to farmers and DAE personnel through mobile app. This will help farmers decide the perfect time for spraying fungicide to control blast effectively.
During the training participants received the hands-on experience of activities in the precision phenotypic platform (PPP) for wheat blast, where 4500 germplasm from different countries of the world and CIMMYT Mexico are being tested under artificial inoculated conditions. To keep the environment sufficiently humid, the trial is kept under mist irrigation to facilitate proper disease development. Trainees learned identification of leaf and spike symptoms of wheat blast, identification and isolation of conidia under microscope, inoculum preparation, tagging selected plants in the fields for inoculation, field inoculation of germplasms being tested at the PPP and more.
According to the United States Department of Agriculture (USDA), wheat consumption in Bangladesh is 7.7 million tons as of 2018 while only 1.25 million tons are supplied domestically. Since the majority of wheat is imported, it will adversely affect the economy if the comparatively smaller amount the country produces decreases due to blast. So the impact of wheat blast is not limited to food production but affects the economy as a whole, and steps to help mitigate the disease are crucial in ensuring healthy growth of wheat yield.
Wheat blast, caused by Magnaporthe oryzae pathotype Triticum (MoT), was first discovered in Brazil in 1985 and then surprisingly appeared in the wheat fields of Bangladesh in 2016, causing 25-30% yield loss in 15,000 ha. As an immediate response to this crisis, CIMMYT and the government of Bangladesh have worked together to mitigate the disease, most notably by distributing factsheets to farmers, conducting routine follow-ups followed by the development and rapid release of blast resistant wheat variety BARI Gom 33 and tolerant varieties (BARI Gom 30 and 32) and strengthening research on blast.
---