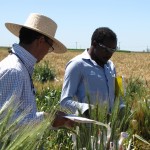 By Katie Lutz/CIMMYT
EL BATAN, Mexico (May 26, 2015)- "After three months, you will be a part of the CIMMYT family," said Amor Yahyaoui, Global Wheat Program (GWP) Training Officer, as he addressed the 30 participants in the Basic Wheat Improvement Course (BWIC) on their first day at CIMMYT Headquarters, El Batán.
The 2015 wheat trainees hail from 14 countries, and have varying degrees of experience and different backgrounds. "These scientists come in from all different spectrums, but this course puts them all on the same level, with one objective: to learn," explained Yahyaoui.
The BWIC is a three-month intensive program at the Campo Experimental Norman E. Borlaug (CENEB) in Ciudad Obregon, Sonora, that targets young and mid-career scientists, focusing on applied breeding techniques in the field.