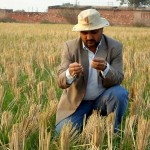 By Katelyn Roett/CIMMYT
EL BATAN, Mexico (December 18,2016)- CIMMYT senior scientist M.L. Jat has received India's National Academy of Agricultural Sciences (NAAS) fellowship in Natural Resource Management for his "outstanding contributions in developing and scaling" conservation agriculture-based management technologies for predominant cereal-based cropping systems in South Asia.
Jat's research on conservation agriculture (CA) – sustainable and profitable agriculture that improves livelihoods of farmers via minimal soil disturbance, permanent soil cover, and crop rotations – has guided improvements in soil and environmental health throughout South Asia. His work has led to policy-level impacts in implementing CA practices such as precision land leveling, zero tillage, direct seeding, and crop residue management, and he has played a key role in building the capacity of CA stakeholders throughout the region.
Sustainable innovation, including climate-smart agriculture, were a major theme at the COP21 climate talks .