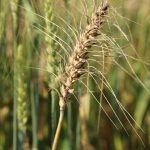 EL BATAN, Mexico (July 1, 2017) — The urgent global response to wheat blast, a little understood fungal disease that appeared suddenly and blighted wheat crops in Bangladesh in 2016, has received a big boost from the Australian Centre for International Agricultural Research (ACIAR), which is funding an initial four-year research project to breed blast resistant wheat varieties.
The wheat blast pathogen, which can move on air currents or ride infected grain, is likely to spread soon throughout South Asia, a region where rice-wheat cropping rotations cover 13 million hectares and nearly a billion inhabitants eat wheat.
Under the initiative led by the Mexico-based International Maize and Wheat Improvement Center (CIMMYT), researchers from nearly a dozen institutions worldwide will join forces to develop high-yielding varieties with resistance to blast, reducing the risk of catastrophic crop losses.
"This research project aims to identify sources of resistance, characterize the resistance genes, and develop DNA markers to create resistant, locally-adapted wheat varieties and make them available to farmers," said Pawan Singh, head of wheat pathology at CIMMYT, an organization whose breeding lines are used by public research programs and seed companies in over 100 countries. "The work could not be more critical, given the likelihood of blast's spread and its deadly virulence for wheat varieties worldwide."
Caused by the fungus Magnaporthe oryzae pathotype Triticum (MoT), wheat blast was first identified in Brazil in 1985 and has threatened and constrained wheat farming in South America for decades.
Fungicides offer only partial control of blast, according to N.C.D. Barma, director at Bangladesh's Wheat Research Centre (WRC). "Under the right conditions, the fungus can develop with lightning speed, blanching and withering the grain," Barma said. "By that time the farmer's losses are near total."
Wheat experts and government officials in Bangladesh, in collaboration with CIMMYT, sounded the alarm last year, when a surprise blast outbreak struck 15,000 hectares of wheat fields near the country's border with India.