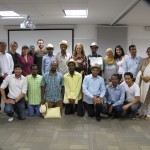 By Katie Lutz/CIMMYT
EL BATAN, Mexico (November 25, 2015) – Applications for the Basic Wheat Improvement Course (BWIC) are due 15 December.
The BWIC is a three-month intensive program at the Campo Experimental Norman E. Borlaug (CENEB) in Ciudad Obregon, Sonora, that targets young and mid-career scientists, focusing on applied breeding techniques in the field.
The training program has benefited national research programs since its inception. The increasing number of wheat scientists in major wheat producing countries reflects the great need and interest of national programs in training young scientists. One of the most frequent requests from countries and national programs is for more trained scientists.