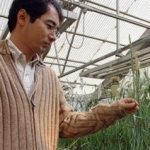 By Mike Listman/CIMMYT
EL BATAN, Mexico (May 17, 2017) – Through a natural, affordable alternative to farmers' heavy use of nitrogen fertilizers, science now offers an option to boost crop productivity and dramatically reduce greenhouse gas emissions, according to the authors of a report that will appear this week in the journal Plant Science.
The new study describes certain plants that possess a trait known as biological nitrification inhibition (BNI), by which they suppress the loss of nitrogen (N) from the soil and improve the efficiency of its uptake and use by themselves and other plants.
The authors, who form part of a new BNI research consortium, propose transferring the BNI trait from those plants to critical food and feed crops, such as wheat, sorghum and Brachiaria range grasses.
"Nearly a fifth of the world's fertilizer, for example, is deployed each year to grow wheat and the crop only uses about 30 percent of the nitrogen applied," according to Guntur Subbarao, a researcher with Japan's International Research Center for Agricultural Sciences (JIRCAS) and lead author of the study.