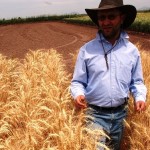 By Katie Lutz/CIMMYT
CIUDAD OBREGON, Mexico (March 11, 2016)- An agreement formalizing an international partnership to increase wheat yields by 50 percent by 2034 was signed 1 January 2016. The agreement states that after years of planning and collaboration, the International Wheat Yield Partnership (IWYP) research will be hosted at The Norman E. Borlaug Experimental Station (CENEB) in Obregon, Mexico for an indefinite period of time.
Originally announced at The Borlaug Summit in March 2014, IWYP will address issues concerning the widespread demand for wheat.