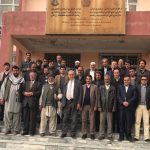 by Rajv Sharma & Zaki Afshar/CIMMYT
KABUL, Afghanistan (February 17,2017)-  Inadequate access to new disease-resistant varieties and short supplies of certified seed are holding back wheat output and contributing to rising food insecurity in Afghanistan, according to more than 50 national and international wheat experts.
Wheat scientists and policymakers discussed challenges to the country's most-produced crop during a two-day meeting at Agricultural Research Institute of Afghanistan (ARIA) headquarters in Kabul, as part of the 5th Annual Wheat Researchers' Workshop in November 2016. They took stock of constraints to the 2017 winter wheat crop, including dry autumn weather and rapidly-evolving strains of the deadly wheat disease known as yellow rust.