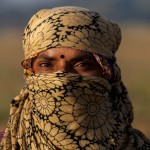 WHEAT Celebrates the International Day of Rural Women

By Katie Lutz/CIMMYT
EL BATAN, Mexico (October 15, 2014)- Each year, 16 October is recognized worldwide as the International Day of Rural Women. The United Nations (UN) states that the role and contribution of rural women is crucial in enhancing agriculture and rural development, improving food security and eradicating rural poverty.
According to the World Bank's 2012 World Development Report, women comprise 43 percent of the agricultural workforce worldwide. Gender affects wheat production in many low- and middle-income countries, where women in villages lack legal rights or face social or cultural exclusion from access to land, information, credit or new technologies.
"Research has shown that women spend more of their resources on children than do men," said Lone Badstue, strategic leader for gender research and mainstreaming in CIMMYT's socioeconomic program. "Improving women's access to resources can directly benefit children's wellbeing and development. In fact, a 2011 report from FAO states that providing women farmers with equitable access to resources and thus bringing their yields up to the levels achieved by men could remove as many as 150 million people from the ranks of the undernourished."
Gender and social equity are key development issues in South Asia, a region that is home to half the world's poor and where wheat is a major crop, but where there has been little research on the role of gender in wheat-based cropping systems. "We lack evidence about which groups are poor and excluded and about the nature of their production, consumption and marketing issues," said Tahseen Jafry, a professor at Glasgow Caledonian University, UK, who specializes in gender and justice issues associated with climate change and agriculture. "But such groups clearly need better ways to access, adapt, adopt and apply new knowledge about technologies, institutions, policies and markets, so they can fully benefit from new developments."
On behalf of WHEAT, Jafry led scoping study on gender and equity in wheat farming in the Indo-Gangetic Plains, a 700,000-square-kilometer region that cuts across Pakistan, northern India, Nepal and Bangladesh. "The study examined the social architecture around wheat-based activities," Jafry said. "As part of this, it analyzed how cross-gender relationships and social positions vary and how this may influence access to and use of improved agricultural technologies, knowledge and practices." Results showed that women's roles in wheat farming vary greatly across social groups and locations and described the factors that determine who gets access to key goods and services.
"Land ownership, for example, is officially recorded in the name of a man," Jafry said. "Women are not recognized as farmers or agricultural producers, so they are largely blocked from support services like subsidies or extension assistance from governments or private providers."
Despite these constraints, said Jafry, the study also revealed a vibrant social architecture – including partnerships, networks and alliances – that addresses gender and social exclusion issues in agriculture and which could play a positive and influential role. As examples, she cited Rangpur Dinajpur Rural Services (RDRS), a non-governmental organization working to empower the rural poor in Bangladesh, or Women Organizing for Change in Agriculture & Natural Resource Management (WOCAN), which strives to build leadership and empower women in Nepal. "Connecting with these agencies could help bridge a gap between research and development," she said. "Using gender-inclusive approaches as applied by these NGOs may be the only way right now to scale up technology adoption and achieve measurable impact in wheat research, for the benefit of households."
Going forward, Jafry recommended broadening collaboration, developing a regional strategy and setting impact targets for gender equality and social inclusiveness that are closely in line with the overall policy environment. "The aim," she explained, "is for wheat research to better align with the broader development agenda, agricultural research-for-development, food security and nutrition, and the post-2015 Millennium Development Goals."
Learn more about the International Day of Rural Women here.