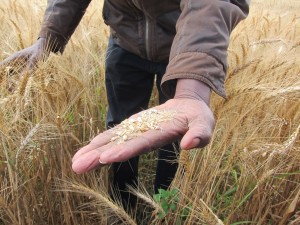 By Katie Lutz/CIMMYT
EL BATAN, Mexico (December 10, 2014)- Have you been experiencing extreme heat? Everlasting droughts? And still don't think climate change is affecting agriculture, the earth or you during this lifetime?
WHEAT has noticed and we see that  climate change is currently contributing to warmer temperatures and producing erratic rainfall causing intense heat and immense droughts worldwide.  Heat and drought have become the main causes of wheat and plant yield loss globally, in both developing and developed countries. Scientists predict this issue will only get worse in the next few years and will largely contribute to world hunger, unless immediate action is taken.
A team of more than 100 scientists met 1-4 December 2014 to discuss a worldwide plan to resolve the yield loss problems being caused by heat and drought at the Heat and Drought Wheat Improvement Consortium(HeDWIC.) Funded by WHEAT, HeDWIC will explore and address issues in food security challenges as part of a 15- to 20-year global partnership.
"We've laid the foundations for a successful research venture that will help farmers and many of the world's most marginalized people living in some of the most difficult environmental conditions. From here, we'll produce a comprehensive road map," said Hans Braun, director of CIMMYT's Global Wheat Program on HeDWIC.